In the following article, based on an excerpt from The Collaborative Organization (June 2012), the author discusses the role of marketing teams in planning, coordinating, and helping launch collaboration tools and strategies within the enterprise.
Marketing and support are crucial for the initial success of any organization-wide collaboration project, so you'll want to let employees know about the new initiative long before it goes live. I've seen organizations start internal marketing and communications efforts anywhere between a few weeks and five to six months in advance of the launch.
The timeline is something you are going to have to gauge for yourself, depending on how receptive your organization is to marketing, how large the company is, and whether employees are excited about the initiative.
For example, if your company is large and the employees are already bombarded by internal marketing communications messages, you might want to give yourself a longer timeline to launch—say, four months. If your organization is smaller (a few hundred employees) and the employees are receptive to innovations and improvements, you can give yourself a bit less time—maybe a month or so. But, to be safe, give yourself around 90 days to market and drum up excitement about the launch.
And, of course, make sure Marketing has the resources and staff to do the job.
Keep in mind that this isn't just a marketing project, it's an organization-wide project. Here are a few ideas I have seen companies implement, along with a few of my own:
Announce a "secret project" that the company is working on, and over the course of a few months drop clues about what the project is.
Showcase regular video interviews of employees who talk about the challenges they are faced with at work regarding collaboration. Ask them what a solution would mean for them (you don't need to tell them that the organization is looking to deploy something yet, but you can).
Issue very clear senior directives stating that during a certain time period employees will be able to find only certain information on the new platform.
Implement employee surveys, focus groups, and discussions that highlight the importance of improved collaboration.
Show humorous videos that depict the frustrations employees have with the current ways of doing things.
Send messages and announcements directly from senior-level executives talking about their support for and excitement about the emergent collaboration project.
Distribute physical flyers and little gifts to employees to help generate buzz around the new launch.
A Couple of Examples
Penn State Outreach planned its rollout almost two months before launching, and it used its creative potential to make it successful. Posters and banners were hung throughout offices on topics such as "Who was on Romper Room at age five?" (referring, of course, to an employee). Penn State also asked that no one schedule anything on the day of the launch: no meetings, no conferences, nothing. Rather, that day was to be set aside to try out the new platform and experiment with it. Fifteen hundred welcome packages were put together for all employees, and Penn State Outreach distributed a video of someone from the executive team expressing support for the initiative. Finally, a video tour of the platform was put together to help employees navigate the features.
One of my favorite creative examples of an emergent collaboration rollout came from Yum Brands, the company behind brands Taco Bell, KFC, Pizza Hut, Long John Silver's, A&W Restaurants, and Wing-Street (around 38,000 restaurants in total, with almost 400,000 employees).
Yum named and branded its platform (an internal social network) iCHING. It embarked on a heavy marketing campaign that included everything from iCHING T-shirts, notepads, mouse pads, and welcome starter kits (which looked like the box for an iPhone) to bathroom and elevator marketing.
Who would have thought that the restroom would be a great place to promote and market an emergent collaboration platform? When employees entered the rest rooms at Yum, they were greeted with a little mirror decal that included fake profile information along with a message for everyone to "now go create your real profile" (see image, below).
Since the iCHING logo and branding shows two people connecting, Yum decided to make use of the elevators to help promote that concept. Every time employees get in an elevator at Yum, they are reminded of the iCHING platform (see image, below; the decal is shown on the inside and the outside of the elevator).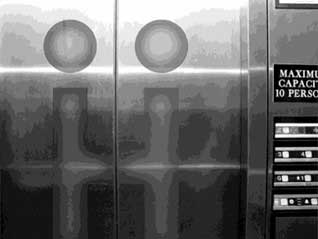 Yum is a massive company with many resources at its disposal, but it also thought creatively small; if you think about what it did with the elevators and bathrooms, the company simply found the most common places that employees access. The point here is that creativity should not be left out of the marketing equation.
What It Takes
The most effective way to start the marketing process is by determining the key activities or tasks that need to get done each week and assigning the person or people responsible for completing those tasks.
For example, the first week of the rollout plan might entail sending out an initial teaser email and designing the creative for the flyers you will hand out to the employees. Week 6 might include sharing employee interviews that address why collaboration is important to those being interviewed.
Again, that's where your team needs to get creative. Remember that you absolutely must communicate with your employees. (I once spoke with an executive in Las Vegas from one of the world's largest hotel chains; he told me that his company deployed a collaboration platform, but nobody knew about it and so nobody used it.)
The branding and design components should not be overlooked. Think of the time and effort that go into designing and branding a new customer-facing product; the same time and effort is going to be needed for your emergent collaboration initiative: everything from colors and logos to messaging and the customization of the collaboration platform to include those colors and logos. Start that process early, because you are going to have to do several revisions and you'll need to have discussions with various departments about what works and what doesn't.
Everyone who is part of the emergent collaboration team also needs to be an evangelist—someone who encourages and supports the use of the new technologies and strategies within the enterprise. When the platform is rolled out, you want the employees to feel excited about it, not annoyed that they are going to have to use a new platform. This is where the human aspect of communication and connecting with your employees is crucial. Employees need to not only hear about and understand the benefits of emergent collaboration but also believe that the organization and senior leadership care about making it work.
Rolling out an emergent collaboration platform is not that different from announcing a new product, a feature, or a special event your company is putting on. The main difference is that you are doing all of this internally.
(Photo courtesy of Bigstock: Happy kids)
Did you like this article?
Know someone who would enjoy it too? Share with your friends, free of charge, no sign up required! Simply share this link, and they will get instant access…
---
You may like these other MarketingProfs articles related to General Management:
---