People want great offers. That's the primary reason they opt-in for permission-based communications from brands, whether in the form of "liking" a brand on Facebook or subscribing to an email list, according to a new survey from Constant Contact and Chadwick Martin Bailey.

Among email users surveyed, the top reasons to subscribe to an organization's email list are to receive discounts (58%) and special promotions (39%), whereas motivations such as receiving exclusive content (26%), staying informed (26%), and showing support (25%) are less important.
Similarly, Facebook users cite receiving discounts (41%) and promotional offers (28%) as their top reasons for "liking" a brand on Facebook.
Roughly one-quarter (27%) of Facebook users like brands to support them (27%), and 22% do so to demonstrate that support to others.

Below, additional findings from the study titled "10 Facts About Why and How Consumers 'Like' and Subscribe."

'Unliking' and Opt-Out Patterns Also Consistent

Producing content that is not relevant (42%) and over-communicating (42%) are the top reasons brands drive consumers away from their Facebook pages.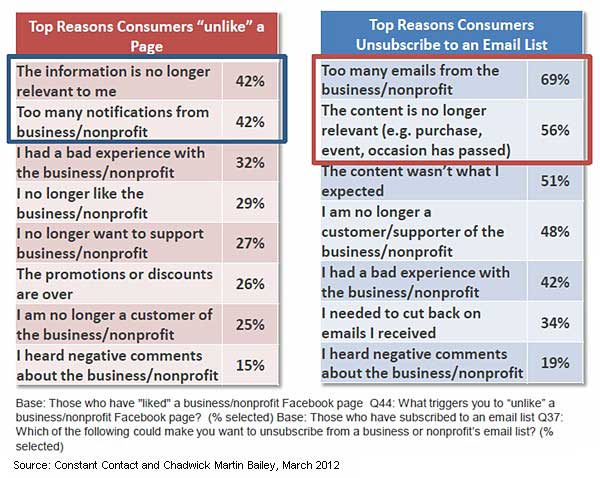 Similarly, too many emails (69%) and irrelevant content (56%) are the top reasons people cite for unsubscribing to email lists, followed by email content that wasn't relevant to begin with (51%) and simply no longer being a customer or supporter (48%).

Interestingly, among Facebook users and email consumers alike, excessive communications and irrelevant content are even bigger turnoffs than bad customer experiences (32% and 42%, respectively).

Why People Open Email

Email users say the most important factor in opening an email is the sender's identity (i.e., who the email is from)—64%—followed by the subject line (47%) and promotional offers (26%).

Lack of interest (61%) and over-sending (45%) are the top two reasons consumers do not open emails from an organization, followed by receiving too many emails overall (32%).

Other key findings:
Local preferences: 25% of consumers prefer to opt in to local businesses over national businesses via email and Facebook.
Mobile email: Despite the widespread use of mobile devices, 84% of consumers primarily access email from their computers, and 14% access email primarily via mobile device.
Facebook via mobile: Though 30% of consumers access Facebook via mobile device, 82% access Facebook primarily via computer, and 15% do so primarily via mobile.
About the data: The Constant Contact and Chadwick Martin Bailey findings are based on a survey of 1,481 US consumers age 18+ via the Research Now online panel. The survey was fielded in the fourth quarter of 2011.


Enter your email address to keep reading ...
Did you like this article?
Know someone who would enjoy it too? Share with your friends, free of charge, no sign up required! Simply share this link, and they will get instant access…
---
You may like these other MarketingProfs articles related to Social Media:
---