Tuesday is the day Fans of auto brands are most likely to interact with auto content on Facebook (e.g., like or share a brand post or image), but Sunday is the most engaging day for telecom and consumer goods brands, according to a study by Socialbakers.

For the study, Socialbakers reviewed user activity on a weekly and hourly basis for over 10 million Facebook pages across 10 industries to determine the best days of the week to achieve maximum Fan engagement.*

In the auto sector, brands generate the most engagement from their Fans on Tuesdays (0.11%), Wednesdays (0.10%), and Fridays (0.10%) particularly via photo-centric content.

Sunday is the day when fast-moving consumer goods (FMCG) brands can expect the highest levels of engagement via social media platforms. Most interaction with FMCG brands is photo-centric as well, reaching its peak over the weekend, particularly on Sunday (0.16%):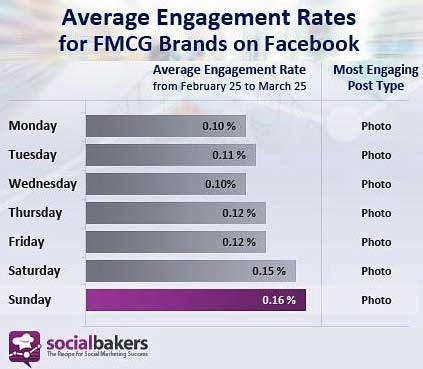 Telecom brands also register high engagement via visual posts, with 0.11% engagement on Sundays (and a peak at 7am), compared with only 0.06% on Tuesdays and Thursdays: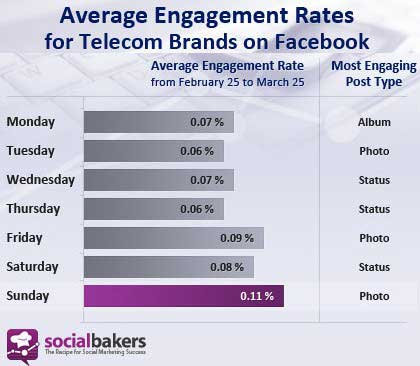 Media brands generate the most engagement on Mondays (0.07%) via links to content, followed by Sundays (0.6%) and the remaining days of the week (from 0.4% to 0.5%), on average.
Some industries are doing a better job engaging fans on Facebook.
As part of the study, Socialbakers ranked the performance of 10 industries by engagement levels during the first quarter of 2012.
Among the sectors analyzed, the most successful was auto (16%), led by top social brands BMW, Ferrari, Mercedes-Benz, and Audi.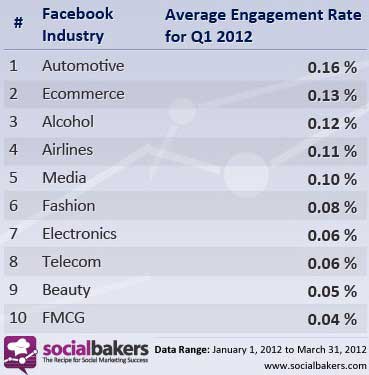 The E-commerce industry was ranked second in engagement (0.13%), followed by alcohol brands (0.12%). Budweiser (1.32%) became the most engaging brand during the quarter, due in part to a St. Patrick's Day photo posted on its page.

Airlines ranked No. 4 during the quarter (0.11%), driven in large part by KLM Royal Dutch Airlines. In February, KLM became the first airlines to integrate Facebook and LinkedIn into the flight process, introducing its Meet & Seat, social seating service. The airline conducted widespread social media campaigns to promote its program during the quarter.
*Note: Socialbakers calculates the Engagement Rate as the average number of likes, comments and shares per post on a given day divided by the total number of Fans for the page. The measurement reflects the average proportion of a brands Fan base that interacts with a given post.

About the data: Findings are based on Socialbaker's proprietary platform of Facebook data with over 10 million Facebook pages and places indexed, collected during the first quarter of 2012.


Continue reading "Best Day to Publish Facebook Content? It Depends" ... Read the full article
Subscribe today...it's free!
MarketingProfs provides thousands of marketing resources, entirely free!
Simply subscribe to our newsletter and get instant access to how-to articles, guides, webinars and more for nada, nothing, zip, zilch, on the house...delivered right to your inbox! MarketingProfs is the largest marketing community in the world, and we are here to help you be a better marketer.
---
---
You may like these other MarketingProfs articles related to Social Media:
---