Social media content posted by brands appears to influence consumers' buying decisions nearly as much as content posted by friends, according to a survey from Market Force Information.

The new Market Force survey asked socially networked adults if they had read comments, tweets, or other social media content posted by friends or businesses (restaurants, retail, travel, entertainment, or financial services brands) in the previous 90 days.

Among US consumers who had consumed content shared by friends, 81% said such posts influenced their purchasing behavior moderately or highly. Among consumers who had consumed content posted by brands, a comparable proportion (78%) said such posts influenced their purchase behavior moderately or highly.

Below, additional findings from the Market Force Information survey of consumers in the US and UK.

Motivations for "Liking" a Facebook Page

More than three-quarters (76%) of US consumers regularly "like" the Facebook pages of restaurants, retail, travel, entertainment, or financial services businesses.

Among those 76%, the most popular reason for liking a brand on Facebook is to find a deal: 79% say they like brand pages to take advantage of incentives or discounts and 70% want to find out about sales and special events.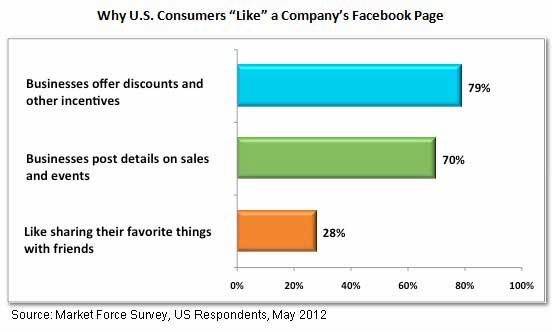 Nearly three in ten consumers (28%) say they like brand pages in order to share their likes with others.

Restaurant and Retail Pages Are Most "Liked"

Across the five industries studied, consumers tend to "like" restaurant Facebook pages most (86%), followed by retail (75%) and entertainment pages (65%).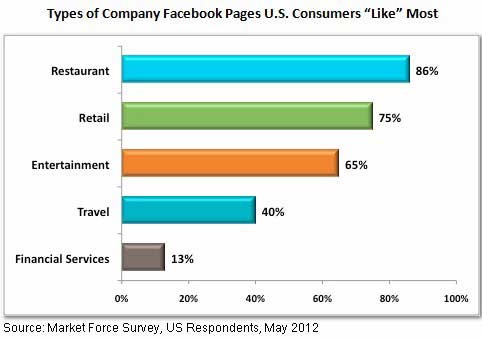 Only 13% of consumers like the Facebook pages of financial services brands.
Social Media Use
Facebook use is widespread
Among US and UK consumers, 95% say they use Facebook. Among those 95%:
The top reason for using Facebook is to stay connected (70%), followed by sharing photos with friends (48%) and general curiosity (34%).
27% have considered dropping Facebook; among such users, privacy is the biggest concern (63%), followed by the site being a distraction from other more important things (35%).
Curiosity drives most Twitter adoption
One-third (34%) of US and UK consumers use Twitter. Among those Twitter users, the five most popular reasons for joining are the following:
Curiosity: 69%
To broadcast information: 18%
To keep in touch with others: 18%
For career-related reasons: 16%
To find groups and events: 13%
More than one-third (38%) of Twitter users have considered dropping their account; among them, 84% say they don't use Twitter often enough and 12% say it's a distraction.

How people use Twitter

Twitter users interact with the site in various ways, including the following:
Job updates: 43%
Check in with colleagues at work: 43%
Check out profiles of others: 36%
Communicate with groups of people: 23%
Chat with others: 12%
Keep current with vendor offers: 10%
About the data: Findings are based on a survey of 12,000 consumers age 18-65 from North America (50%) and the UK (50%) conducted in February 2012 by Market Force Information. Some 75% of respondents were women, the primary household consumer purchasers.

Enter your email address to keep reading ...
---
You may like these other MarketingProfs articles related to Social Media:
---