Facebook closed out 2012 with good news on the mobile front: Ranked by audience size, Facebook captured the No. 1 spot from Google Maps as the top US mobile app as of December 2012, according to data from the comScore Mobile Metrix.
Facebook, which surpassed Google Maps in October 2012, held onto its lead through end of the year, attracting some 85.6 million unique visitors in December, while second-ranked Google Maps captured 74.6 million visitors:
Apple's decision to replace Google Maps with Apple Maps on iOS 6 operating system drove much of the decline in Google Maps use in October and was largely responsible for the position swap, according to comScore; however, since being reinstated on iOS 6, Google Maps has recovered some lost ground.
Though tablets are gaining steam at a rapid pace, smartphone apps are still key drivers of media consumption in the post-PC paradigm: Most mobile Web access occurs via smartphones and roughly 4 out of every 5 minutes spent using smartphones is done so via apps, according to the report.
Below, additional findings from comScore Mobile Metrix.
Top 10 US Mobile Apps
Despite losing the No. 1 spot, Google maintained strong leadership in the app market as of December, accounting for 5 of the top 6 ranked apps.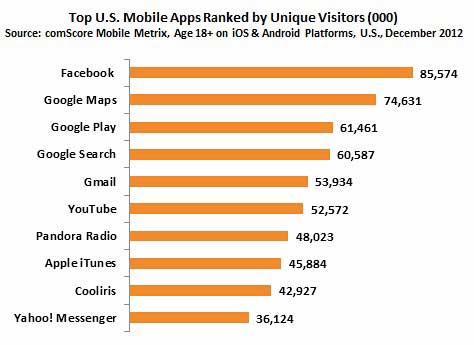 Given the ubiquity of various Google services, in addition to many being native on both iOS and Android, Google's strength isn't surprising. Other apps rounding out the ranking are Pandora, iTunes, Cooliris, and Yahoo Messenger.
Time Spent Using Apps
In addition to owning the top app audience ranking, Facebook has consistently ranked No. 1 in terms of mobile app engagement, accounting for 23% of time spent on apps as of December, while sister app Instagram enjoyed another 3% of the market.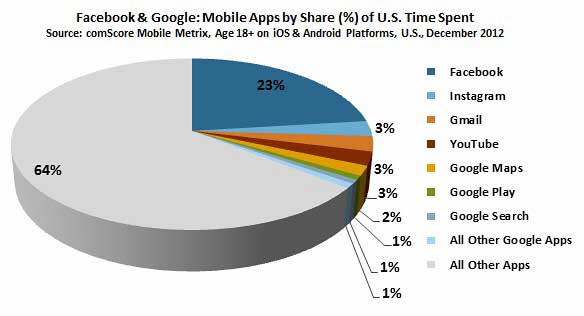 Various Google apps combined to account for 10% of time spent, with Gmail owning the highest individual share at 3%. Those two leading web companies combined for more than 1 out of every 3 minutes spent on mobile apps during the period.
The app space is highly competitive: 2013 will likely present an interesting dynamic as Google and Facebook wrestle for app supremacy, while other media properties look to carve out a niche or establish a more prominent position, comScore notes.

Enter your email address to keep reading ...
Did you like this article?
Know someone who would enjoy it too? Share with your friends, free of charge, no sign up required! Simply share this link, and they will get instant access…
---
You may like these other MarketingProfs articles related to Mobile:
---