The Secret to AdWords, Facebook, and Display ROI: Phone Call Conversions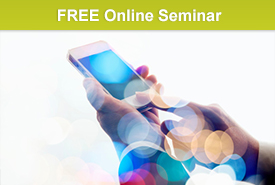 Presenter:

Blair Symes

Moderator:

Kerry O'Shea Gorgone

Sponsor:

DialogTech

Broadcast:

Tue, Jul 18, 2017, 1pm ET

Length:

45 minutes
We're now in a world where digital ad spending is routinely evaluated and optimized on the basis of online-to-offline impact. And in today's smartphone world, that means phone calls. How well your Adwords, Facebook, and display advertising generates phone calls can make or break your ROI. Marketers must now take the same data-driven approach to calls as they do online conversions—starting with ad and landing page creative, using targeting and audience building, and finally with attribution and optimization.
Join us for this free seminar to learn proven strategies to improve ROI and acquire more customers from AdWords, Facebook, and display ads.
To follow the conversation on Twitter, use the hashtag #dialogtech.
Presenter

Blair Symes is the director of content marketing at DialogTech, the leading provider of actionable marketing analytics for phone calls. Over the past 20 years, he has published hundreds of articles and e-books, and presented dozens of webinars on a wide range of marketing topics including omnichannel attribution and conversion optimization.

Who Should Attend?
Marketers who are interested in proving ROI by tracking phone calls in response to their campaigns.
What Will You Learn?
What kinds of call data marketers should capture to prove ROI from conversions on AdWords, Facebook, and display ads
How to optimize AdWords, Facebook, and display ad campaigns to drive calls
Success stories and examples from leading brands
About Our Sponsor:

DialogTech provides marketing teams and agencies with data and insights to get more customers calling. In today's smartphone world, phone calls driven by marketing play an important role in the customer journey. Imagine if you could optimize your marketing and website to drive more of the calls that drive revenue. Imagine your impact on business results and customer loyalty if you could ensure each caller receives a customer experience tailored to their needs. That's the power of DialogTech.
Questions?
Call our PRO Hotline: (866) 557-9625