Jack Trout on Worldwide Positioning: An Encore Presentation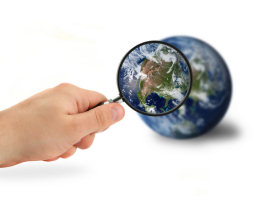 Presenter:

Jack Trout

Moderator:

Graham Weston

Broadcast:

Wed., Nov. 28, 2007, 12pm ET (9am PT)

Length:

90 minutes

Rating:
The global economy is the driving force in today's marketing world. Positioning is the driving force in how to operate in this world. This seminar will take you on a journey around the world to see how positioning is being practiced from China to Venezuela and many stops in between.
The essence of positioning can be defined as how you differentiate your product in the mind of your prospect. You will learn the different ways to do this by examining global case studies as examples.
You'll also learn that effective positioning strategy is not about meaningless slogans but meaningful points of difference. Case studies include all kinds of companies around the globe so just about anyone can benefit from attending this online seminar.
There is an enormous amount of chatter about new internet media forms and how the world of marketing is changing. Much of it is hype. Some of it is valid. But no matter what happens or what new tools you choose, having the right strategy is your starting point. That is a fact of life that will never change.
Presenter

Jack Trout is president of Trout & Partners, one of the most prestigious marketing firms with headquarters in Old Greenwich, Connecticut, USA and offices in 13 countries. Jack Trout manages and supervises a global network of experts that apply his concepts and develop his methodology around the world. The firm has done work for AT&T, IBM, Burger King, Merrill Lynch, Xerox, Merck, Lotus, Ericsson, Tetra Pak, Repsol, Hewlett-Packard, Procter & Gamble, Southwest Airlines and other Fortune 500 companies.

Instrumental in developing the vital approach to marketing known as "positioning," he is responsible for some of the freshest ideas to be introduced into marketing thinking in the last several decades.
Jack Trout started his business career in the advertising department of General Electric. From there he went on to become a divisional advertising manager at Uniroyal. Then he joined Al Ries in the advertising agency and marketing strategy firm where they worked together for over twenty-six years.
With Al Ries he co-authored the industry classic, Positioning: The Battle for Your Mind, which was published in 1980. In 1985 he and Al Ries wrote a second best-selling book entitled Marketing Warfare. Positioning and Marketing Warfare are now published in 14 languages. In 1988 Bottom-Up-Marketing was published. In 1993 their book, The 22 Immutable Laws of Marketing became the marketing bible. It outlined the basic reasons why marketing programs succeed or fail in the competitive nineties. Jack Trout closed the circle with the sequel to Positioning in 1995. Entitled The New Positioning it takes the world's No. 1 business strategy to a new level. It became a Business Week best seller and has already been translated into 16 languages. This was followed by The Power of Simplicity – A Management Guide To Cutting Through the Nonsense And Doing Things Right. Then it was Differentiate or Die – Survival in Our Era of Killer Competition which presented the keys to survival in a killer global economy. This has also become a best seller.
His latest books are entitled Big Brands Big Trouble and The Genie's Wisdom. They explain why the marketing process is so important for senior management to learn and practice.
Who Should Attend?
While most examples in this seminar are B2C, marketing professionals at all levels in all industries will gain a clearer understanding of positioning and differentiation. Don't miss this rare opportunity to learn from the man himself!
What Will You Learn?
Why slogans rarely deliver reasons to buy
Five important psychological ways to differentiate your product
The inherent positioning of different countries in the world economy
Four steps to differentiation, illustrated with products from companies around the world
Register Now!
You have two choices. You can pay as you go, buying single sessions that interest you. Or you can buy a PRO membership, and attend all our new PRO seminars and Take 10 webcasts over the next year, plus watch hundreds more from our library on-demand.
Questions?
Call our PRO Hotline: (866) 557-9625