Generating Leads With Compelling White Papers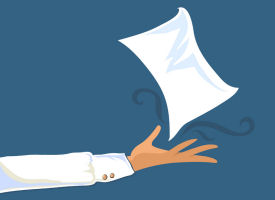 Presenter:

Michael Stelzner

Broadcast:

Thu., Feb 8, 2008, 12pm ET (9am PT)

Length:

90 minutes

Rating:
Learn to generate continuous leads with a single well-written white paper.
Do you need to drum up new business in 2008? Are you responsible for bringing prospects to the sales organization?
Leads are the fuel that drives business growth. In fact, acquiring new customers is the TOP priority of marketing professionals in 2008 (as reported in B2B's 2008 Marketing Priorities and Plans survey).
How can you lure a steady stream of prospects?
The answer: The well-crafted white paper.
Why? Because white papers are attractive to people early in the buying cycle.
Now you can learn the critical strategies to generating leads with effective white papers in this seminar with Michael Stelzner, author of Writing White Papers: How to Capture Readers and Keep Them Engaged.
This 90-minute presentation includes lessons from FedEx, Ikea, Yale, and more.
Presenter

Michael Stelzner is an authority on the topic of writing and marketing white papers. He has written more than 100 white papers for many of the world's most recognized companies, including Microsoft, FedEx, Motorola, Monster, Hewlett-Packard and SAP.
Michael is executive editor of the 20,000-reader WhitePaperSource Newsletter, a monthly publication dedicated to helping writers and marketing professionals master the art of white papers. In addition, Michael trains corporations and professional organizations, and hosts a monthly teleclass on white paper-related topics. He has instructed major corporations, such as VeriSign and Qualcomm.
Check out Michael's blog at www.writingwhitepapers.com/blog/.

Who Should Attend?
Any marketing professional that needs to generate higher quality leads and wants to establish the company as a thought leader.
What Will You Learn?
Ways to generate sustaining, long-term sales with white papers
How to grab eyeballs with words
The types of white papers and when to use each one
Approaches to constructing your white paper
Where to start: the planning steps, key elements of successful white papers, plus a sample outline
Writing the critical first page: what's the formula for success ...and what to avoid
How to write titles: Michael's "3-30-3 rule" and "3 U's formula"
Crafting the call to action
Register Now!
You have two choices. You can pay as you go, buying single sessions that interest you. Or you can buy a PRO membership, and attend all our new PRO seminars and Take 10 webcasts over the next year, plus watch hundreds more from our library on-demand.
Questions?
Call our PRO Hotline: (866) 557-9625