When I stepped off the cable car at California Street and Van Ness Avenue in San Francisco last week, I quickly ducked into the Wells Fargo Bank branch on the corner. At least I thought it was a Wells Fargo—until I saw all the leather armchairs, hardwood floors, artsy wall coverings and the espresso bar. Hmm... was I in a Starbucks Café? Or had I simply entered The First National Bank of Cappuccino?
As it turned out, the answer was "yes, all of the above"!
This photo, which I snapped before the Wells Fargo loan officer in the corner shut me down, captures the ambience of this new "Experience Economy" bank branch. And my encounter, in fact, underscores that we are just now seeing the Experience Economy gathering steam. (Pun intended, espresso lovers.)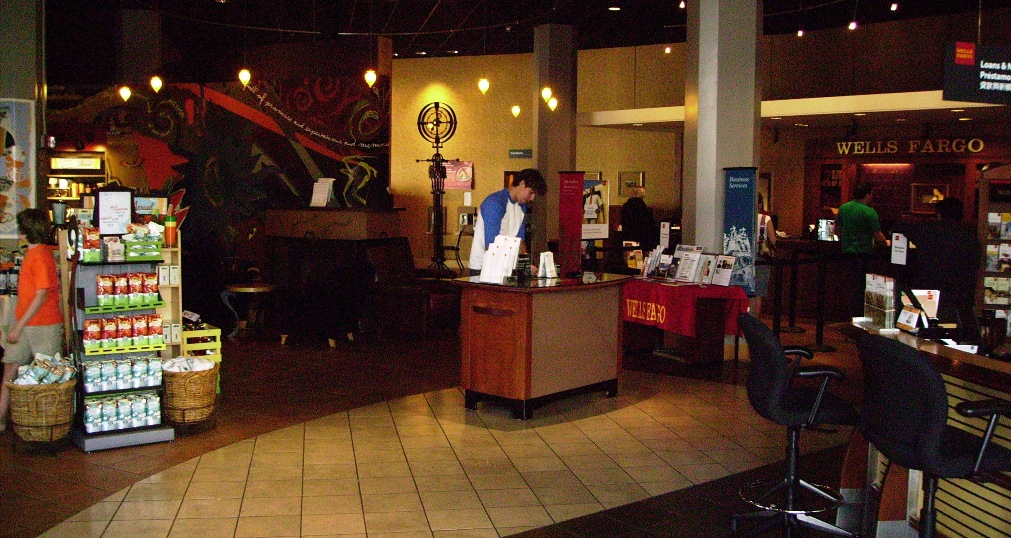 Click to enlarge
Jim Carville popularized the phrase "It's the economy, stupid" in the first Clinton presidential campaign. For the savviest brand managers and customer service organizations, now "it's the experience, stupid."
Joseph Pine and James Gilmore identified the trend toward the Experience Economy several years ago in their book of the same name. Disney, Starbucks, Barnes & Noble were some of the early companies to catch the wave.
A recent spate of news items—and positive financial performances—underscores that it's not a passing fad but indeed a wave washing into all sectors of the economy: As the early adopters capture growing returns, more and more companies are eagerly paddling to catch up.
Banks ride the wave
A recent Wall Street Journal article details the successful branch strategy of a number of banks nationwide with the headline "Would you like a latte with that loan?" Banks are putting in espresso bars, movie lounges, free Wi-Fi and play areas—designing the whole environment to a warmer, softer look. Just a gimmick? Not if you do the numbers:
Bank of Smithtown, Hauppauge, NY has installed coffee bars, stools and plasma-screen TVs in nearly half its 13 branches. Last year, when it opened three new branches in the Experience-Economy style, they accounted for about a third of the bank's $183 million in deposit growth.


Giant Washington Mutual credits its new branch design with helping to add 900,000 net new checking accounts last year—a 10% increase over 2004.
It's no wonder that biggies like Wachovia, PNC Bank, Bank of America—as well as regional players from one end of the country to the other (like Umpqua Bank, Pilot Bank and Union National Community Bank)—are piling into the Experience Economy with branches that can provide "a latte with that loan."
Apple rides the wave
Apple Computer has made the skeptics who called Steve Jobs's retail strategy a giant misadventure eat a lot of words. In a sector where other computer makers have stumbled badly (Gateway, for example, recently closed 188 stores), Apple recently opened a stunning, high profile store on New York's Fifth Avenue—right across from icons Bergdorf Goodman and The Plaza Hotel. The opening attracted tremendous publicity with the huge glass entrance to a completely underground store—reminiscent of I.M. Pei's glass-pyramid entrance to the Louvre.
I was in the Apple store in Emeryville, California recently, and it was awash with customers. They were visiting the "Genius Bar" for tech help, upgrading their laptops, snapping up iPods and accessories—and noticeably gabbing avidly with the store's bit-heads about making cool stuff work on the Mac.
Apple now has roughly 250 retail locations, contributing $2.35 billion in sales—about 17% of the company's numbers, and up from $621 million in 2003.
Apple customers clearly enjoy the experience. The Wall Street Journal quotes William Mon, a student at Rutgers University, who says he always tries to visit the local Apple store when there's a new product introduction. Mon likes the large open tables used for displays, where it's easier to play with the technology. Apple also hosts regular workshops in its stores, training users in using Apple software to record music and edit movies.
Pawnbrokers and auto dealerships catch the wave
Even pawnbrokers and automobile dealers are getting into the experience game. Mary Jackson, a spokesperson for Cash America, talks about how her chain of pawnshops is creating an alternative financial services environment that goes against the stereotype of the guy in a wife-beater shirt with a Doberman in the back.
Cash America's customer research shows that 60% of its clientele has a bank account but often just don't want to fool with the paperwork to get credit. "Some people use a necklace like others would a Visa card," she says. "You just use it continuously to get loans as you need them."
The chain has grown from one store in 1983 to 468 today, with 2005 revenues of $600 million. Its model is built on presenting a clean, well-lighted place staffed with trained and helpful customer-service agents.
A whitewash? Apparently not. The proof? In Kansas City, the chain opened a store that beat the socks off an entrenched competitor—who took out billboards advertising his lower interest rates. Cash America won on service, clean stores, and trained employees wearing uniforms and name badges.
Auto dealerships are getting into the experience game. The most recent auto showroom to open in Little Rock—Crain Mazda—touts its wireless Internet access, comfy lounge, and the ability to race a Mazda RX-8 around Mazda Laguna Seca Raceway on the Sony Playstation 2 as part of the car-buying experience.
If pawnbrokers and car salesmen are now aggressively leveraging the opportunities of the Experience Economy, should your business be far behind?
Continue reading "First National Bank of Cappuccino? The Experience Economy Gathers Steam" ... Read the full article
Subscribe today...it's free!
MarketingProfs provides thousands of marketing resources, entirely free!
Simply subscribe to our newsletter and get instant access to how-to articles, guides, webinars and more for nada, nothing, zip, zilch, on the house...delivered right to your inbox! MarketingProfs is the largest marketing community in the world, and we are here to help you be a better marketer.
---
---
You may like these other MarketingProfs articles related to Customer Relationships:
---