More than three-quarters (76%) of marketers say their brands are conducting social media marketing, and an additional 16% plan to begin doing so by the end of 2012, making for a potential social marketing contingent of 92%, according to Chief Marketer's 2012 Social Marketing Trends Survey.
Those results track with two previous studies issued by Chief Marketer, in 2011 and 2010, when 73% and 64% of surveyed marketers, respectively, reported conducting social marketing.
Not surprisingly, B2C brands are more heavily invested in social marketing.
Among pureplay B2C marketers, 79% say they conduct social media campaigns, compared with 68% of B2B marketers who say the same. However, another 16% of B2B marketers say they plan to begin social marketing by the end of 2012.
Below, additional findings from the 2012 Chief Marketer Social Marketing Trends Survey.
Top Social Channels
Most of the marketers surveyed are focusing their social marketing efforts on the three largest US social networks: Facebook (89%), Twitter (77%), and LinkedIn (63%).
However, breaking those out into B2C and B2B pureplay responses proves more interesting:
Among the pureplay B2B marketers surveyed who are conducting social marketing, LinkedIn is the channel of choice (85%), outpacing both Facebook (77%) and Twitter (77%).
Among B2C-only marketers who are conducting social marketing, Facebook is most popular at 94%, Twitter hovers at 78%, but LinkedIn drops to 39%.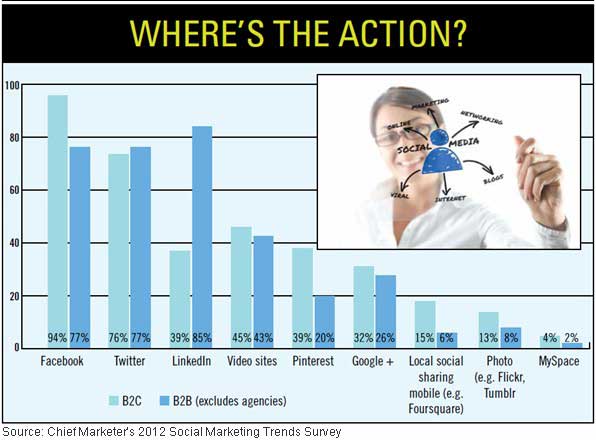 More than two in five B2B and B2C marketers share video on social websites such as YouTube and Vimeo: 43% and 45%, respectively.
B2C marketers are more focused on Pinterest: 39% report using the image-sharing site for marketing, compared with 20% of B2B marketers.
Notably, Pinterest adoption indexes even higher among various consumer verticals: content publishers (67%); entertainment companies (56%); and retailers (45%).
Top LinkedIn Features
Overall, B2B marketers who use LinkedIn appear to use the site's available features and tactics more intensively than their B2C counterparts.
B2B marketers, and the total response group, are focusing on starting or joining conversations via LinkedIn Groups: 44% of B2B marketers say they make sure their brands take part in such Groups, along with 33% of all marketers polled.
InMail messaging—LinkedIn's fee-based feature for sending messages directly to registered members—is the second most popular LinkedIn tool (20%) along with LinkedIn Events (20%).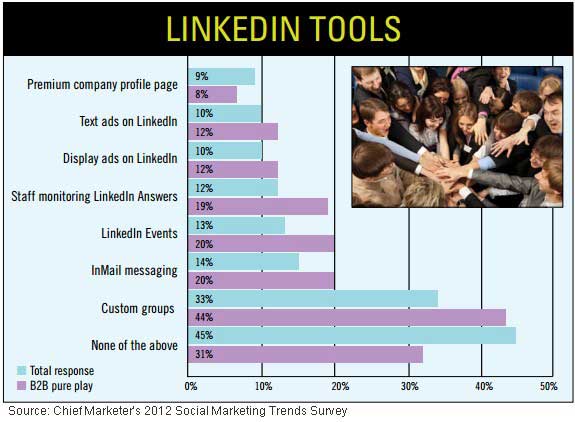 Few marketers of either business type (10% in all) use LinkedIn display ads to promote campaigns. Also, only 9% are opting to post a company page, an enhanced LinkedIn company profile that permits more details about a brand's products and services.
Top Twitter Features
Among all marketers who use Twitter, hashtags (the # symbol), used to mark keywords or topics in a tweet, are the most popular feature, including those associated with specific campaigns (30%) or simply used to organize conversations around tweeted content (26%). B2B marketers are more likely than non-B2B counterparts to use hashtags.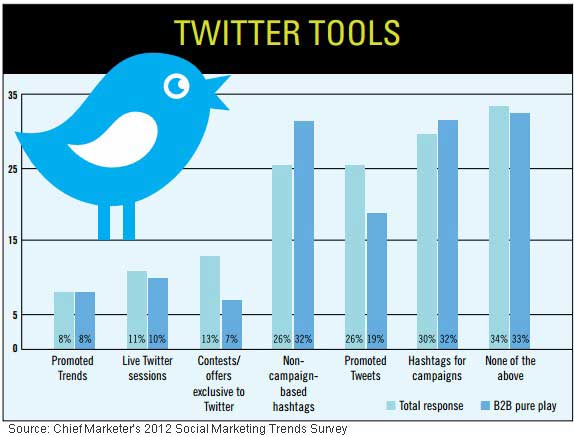 Only 19% of B2B marketers use promoted tweets, compared with 26% of all marketers surveyed.
Moreover, the largest response group, both overall (34%) and in the B2B sector (33%) does not use any special features in Twitter.
Challenges
More than one-half (56%) of surveyed marketers cite the difficulty of calculating an accurate return on their social marketing outlays as a prime frustration with the channels.
Similarly, 55% cite the difficulty of accurately tracking sales to social campaigns. Those response rates held true both for B2C and for B2B marketers.
About the data: The Chief Marketer 2012 Social marketing Survey polled 1,050 active marketing professionals at brands and agencies distributed across a range of industry verticals, including manufacturing, retail, financial, healthcare, travel, entertainment, publishing, advertising, database and nonprofit sectors, from August 7 to September 10, 2012.
Did you like this article?
Know someone who would enjoy it too? Share with your friends, free of charge, no sign up required! Simply share this link, and they will get instant access…
---
You may like these other MarketingProfs articles related to Social Media:
---