Creating Profitable Marketing Partnerships with Nonprofits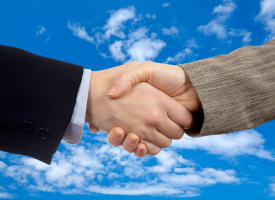 Presenter:

Gail Z. Martin

Broadcast:

Thu., Aug 23, 2007, 12pm ET (9am PT)

Length:

90 minutes

Rating:
Looking for a way to support your community and extend your marketing? Want to "give back" while getting ahead?
Nonprofit and community organizations can make perfect promotional partners, but there are crucial differences between the for-profit and not-for-profit worlds. Savvy marketers who can transcend those differences and create win-win partnerships that serve both mission and marketing can open up exciting new opportunities.
Partnering with a nonprofit requires a different approach to marketing. But for businesses that value giving back and making a difference, a for-profit/non-profit marketing partnership can be a way to change the world and grow your business.
Presenter

Gail Z. Martin is an author, entrepreneur and educator. She owns DreamSpinner Communications, offering exceptional business writing and marketing services to companies of all sizes throughout the U.S. and Canada. Her seminars share powerful marketing techniques for small and growing businesses.

Gail is a frequent contributor of non-fiction articles for local, regional and national magazines. She is also an adjunct professor for UNC Charlotte, where she teaches Public Relations Writing and Public Speaking. Gail holds an MBA from The Pennsylvania State University in Marketing and has over 20 years of corporate/ nonprofit/consulting experience.
Gail is the author of The Summoner: Book One in The Chronicles of The Necromancer, a fantasy adventure series, and The Blood King (2008).
Who Should Attend?
Business owners, self-employed professionals, entrepreneurs and marketers in all industries. Gather your colleagues around a monitor in the conference room and have everyone benefit from the advice and techniques shared. After the program is over, you can discuss ways of using this information to improve your marketing.
What Will You Learn?
Why Community Relations makes for great Public Relations
How to identify and approach a potential nonprofit partner
How the nonprofit world works—and where the land mines are
The secret to a great Community Relations partnership
You'll come away with:
Ideas for win-win community partnerships
An action plan for identifying and contacting potential community partners
A clear understanding of what a community partner can—and can't—do
A vision of how marketing can make a difference—to the world and to your bottom line
Register Now!
You have two choices. You can pay as you go, buying single sessions that interest you. Or you can buy a PRO membership, and attend all our new PRO seminars and Take 10 webcasts over the next year, plus watch hundreds more from our library on-demand.
Questions?
Call our PRO Hotline: (866) 557-9625