Publicity Power Tool: Building a Great Online Press Kit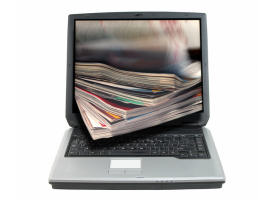 Presenter:

Gail Z. Martin

Broadcast:

Thu., Nov 15, 2007, 12pm ET (9am PT)

Length:

90 minutes

Rating:
Reporters have a 24/7 news cycle to fill. Without press releases from companies, reporters can't possibly find enough content for all those stories. But nothing is more frustrating to a reporter on deadline than not being able to get vital information right away. That's where a press kit comes in.
Press kits (media kits) are a PR staple. Jam-packed with useful information, they help reporters write complete and accurate stories by providing factual company information. Although press kits are often event—or announcement—driven, a good press kit contains information—like bios, company history and key product/location information—that remains valid for a long time.
Why are press kits missing from so many companies' web sites? Omitting a press kit is an expensive oversight. You might miss out on great news coverage—or worse, you could get an inaccurate story publicized to the world.
Good press kits can avoid misinformation, spark new coverage, save staff time, reduce costs and build positive media relations. Join veteran PR expert Gail Z. Martin of DreamSpinner Communications to discover how to put the power of a press kit to work for your organization.
Presenter

Gail Z. Martin is an author, entrepreneur and educator. She owns DreamSpinner Communications, offering exceptional business writing and marketing services to companies of all sizes throughout the U.S. and Canada. Her seminars share powerful marketing techniques for small and growing businesses.

Gail is a frequent contributor of non-fiction articles for local, regional and national magazines. She is also an adjunct professor for UNC Charlotte, where she teaches Public Relations Writing and Public Speaking. Gail holds an MBA from The Pennsylvania State University in Marketing and has over 20 years of corporate/ nonprofit/consulting experience.
Gail is the author of The Summoner: Book One in The Chronicles of The Necromancer, a fantasy adventure series, and The Blood King (2008).
Who Should Attend?
Marketing Managers/Directors
Public Relations Directors/Managers
Web Content Managers/Directors
Corporate Communications Managers/Directors
What Will You Learn?
Why you need an online press center
How a press center promotes your business 24/7—and saves staff time
What absolutely must be in your press kit—and what to leave out
Creative ways to get the most from your press kit
Why the myth of restricting information is costing you good media coverage
The new multi-media kit—and why it's taking reporters by storm
Details that make a difference
Register Now!
You have two choices. You can pay as you go, buying single sessions that interest you. Or you can buy a PRO membership, and attend all our new PRO seminars and Take 10 webcasts over the next year, plus watch hundreds more from our library on-demand.
Questions?
Call our PRO Hotline: (866) 557-9625