Google reputation management has long become one of the most important online marketing niches. It doesn't matter whether your brand is online or not; it will be googled.
So, before you choose your brand name, you should understand the following three major facts about how Google rates and ranks personal and business names.
1. Some searches have an 'obvious' result
Some search queries leave almost no doubt about what a Web searcher is looking for.
Based on leaked information about Google's rating guidelines, Google distinguishes among the following three types of possible search query interpretation: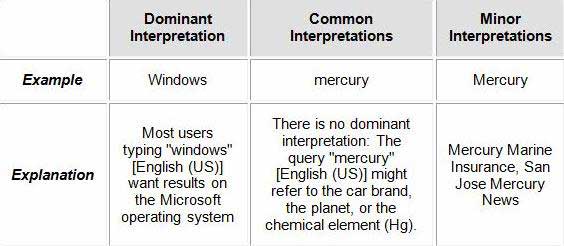 That said, in some cases, even when a word has several possible meanings (and the user's intent is not clear), Google won't suggest a choice. The entire first page of search results will be dominated by one meaning of the word.
So, before you pick a particular brand term, check whether any "obvious" search results for your brand keyword exist. It is easy: Just run a quick search of a word you are planning to brand yourself with. If you find "dominant interpretation" for that search query, the first page of search results will be stacked with that meaning, as in the case of "apple":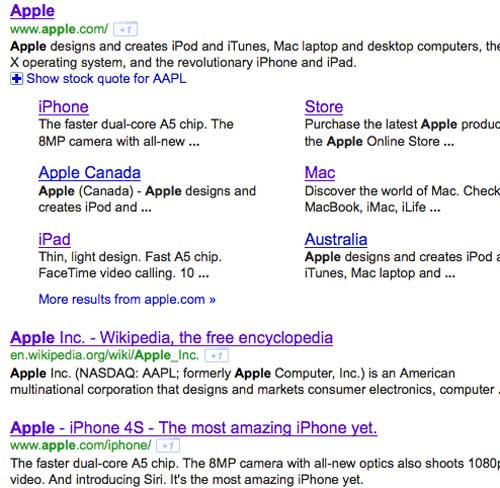 You don't want to start a business to later find out there's no way to rank in the top 10 results for your own business name. A company named "Apple Vacations" will not rank for the word "apple," as the previous example illustrates.
2. 'Generally-known' does not mean 'obvious' (or 'dominant')
Some brands managed to turn very generic words into brand-specific queries. You won't see any fruit-related search results for a search of the term "apple," and you will not see any mention of the river when searching for "Amazon." So, no matter how obviously biased some results are, general knowledge does not really influence search results.
Even when a search term has no obviously dominant result, Google won't always focus on a better-known (or likelier) search result.
In other words, common interpretation will not necessarily rank higher than minor interpretation (especially if the latter is a brand name).
Here's an example: What's your instant association with the name Armstrong? Tour de France? Space? Moon?
The truth is, Google thinks neither Neil nor Lance Armstrong are what you are really searching for. Instead, it's much more probable that you are searching for flooring or ceiling products, pumps, or Armstrong Atlantic State University Savannah.
That's a good example of search results' giving you a not-so-obvious choice (because your initial intent is unclear).
But even if Google can't know what you are searching for, why does it bump weird results to the top of the page when the other two results are more obvious?
That's possibly because Google seems to favor brands and is likelier to suspect that your intent is navigational instead of informational (go instead of know).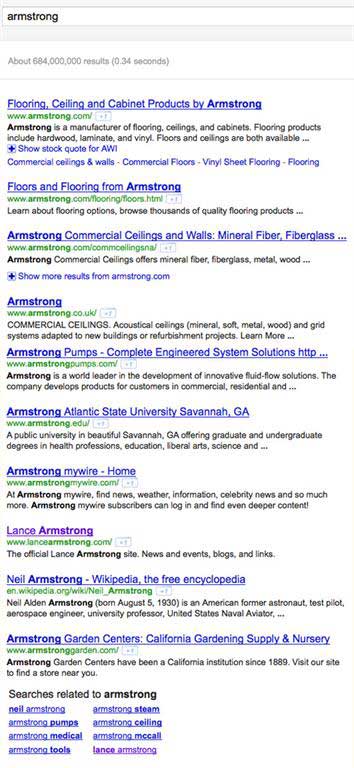 When no dominant interpretation exists for a keyword, getting ranked in most SERPs is easier than you might think. All you need is to build a strong brand name.
3. Make your name and brand name stick together
You don't need to be a celebrity to become a dominant search result for your name in Google. All you need is a unique name.
However, though you may be unlucky enough to have the name of a celebrity or a common English name that may have hundreds of possible interpretations, you still want to rank on page one and promote your personal brand without creating an online moniker.
Google suggests one solution: Make your name and your brand name stick together, and you instantly become a dominant interpretation.
The following is from the aforementioned Google rating guidelines:
For example, Dave Jones is a common English name, and the query "dave jones" [English (UK)] can have no vital result because Google doesn't know which Dave Jones the user wants. However, the very specific query "dave jones codemonkey" [English (UK)] does have a clear dominant interpretation.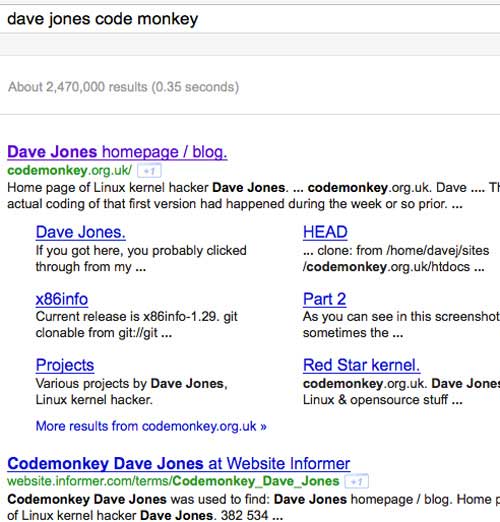 * * *
Picking your brand name is crucial, and it may take months to find a proper name for an emerging business. Making it Google-friendly is one of the most important criteria of a brand name now that everything is being "googled." So, before naming your business, search—a lot!
Did you like this article?
Know someone who would enjoy it too? Share with your friends, free of charge, no sign up required! Simply share this link, and they will get instant access…
---
You may like these other MarketingProfs articles related to Search Engine Marketing:
---