Creating a Customer-Centric, Measurable Marketing Plan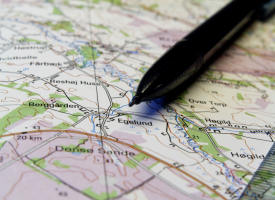 Presenter:

Laura Patterson

Broadcast:

Thu., Oct. 16, 2008, 12pm ET (9am PT)

Length:

90 minutes

Rating:
You've heard it before: Operating without a marketing plan is akin to taking a road trip without a map. While you may eventually get there, it is also just as likely you will get lost.
A marketing plan outlines a shared, focused strategy on how marketing will help the organization achieve its key business initiatives. It clarifies the challenges you face as well as the opportunities.
The research involved in creating a marketing plan improves marketing effectiveness and efficiencies, clarifies your target market, and helps insure you wonít end up pursuing unprofitable ventures. This session with Laura Patterson introduces key marketing and plan concepts, and provides a framework for developing a customer-centric marketing plan. You'll have a creative, complete, and concise approach that enables you to develop a strategically based, customer-centric, measurable marketing plan.
Presenter

Laura Patterson is president of VisionEdge Marketing. Laura's career spans nearly 30 years of marketing and sales. Her expertise and experience reflects the VisionEdge Marketing's focus on improving marketing performance, effectiveness and efficiency, as well as marketing and sales alignment.
Prior to VEM, Laura served nearly 14 years at Motorola, Inc. in a variety of marketing and sales roles. In addition to VEM and Motorola, she has worked in the application software, enterprise software and financial services industries.
Laura is the author of dozens of published marketing and branding articles, and the books Gone Fishin' for Marketing and Sales Alignment and Measure What Matters. She has served on several non-profit boards, provided programming for professional organizations such as the ANA and BMA and has served as a guest lecturer at various universities, including the University of Texas at Austin, Stanford University, Truman State University and Purdue University. Her new book, Creating a Performance-Driven Marketing Organization is due out late summer 2008.

Who Should Attend?
B2B marketing executives, program managers responsible for marketing strategy and planning, marketing programs, market/customer research and insights, competitive intelligence, marketing metrics, and marketing operations.
What Will You Learn?
The role of the marketing department in such a customer-centric environment
The 10 questions every marketing plan should answer
Dragons and Quests: Key steps for analyzing your situation
How to deploy the M.O.S.T approach to create a plan
How to structure your Mission, metrics, outcomes, objectives, strategies, and tactics in a way that is both customer-centric and measurable
Register Now!
You have two choices. You can pay as you go, buying single sessions that interest you. Or you can buy a PRO membership, and attend all our new PRO seminars and Take 10 webcasts over the next year, plus watch hundreds more from our library on-demand.
Questions?
Call our PRO Hotline: (866) 557-9625