Building and Sustaining Brand Communities: This Ain't Your Mama's Discussion Forum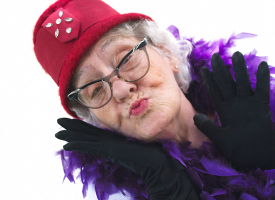 Presenter:

Amber Naslund

Broadcast:

Thu., Aug. 13, 2009, 12pm ET (9am PT)

Length:

90 minutes

Rating:
"Community" is one of today's big buzz words, and everybody wants one. But what does it take to build and sustain a true community around your brand, and what does that look like?
In this seminar, we'll talk in plain English about the new roles of community professionals (including debunking misconceptions about community cultivation), the value and challenges of building a community (whether you're B2B or B2C), and the investment in time and resources it takes to do it well.
Presenter

Amber Naslund is a social media and marketing professional, and the Director of Community for Radian6, where she's responsible for client engagement, community building, and helping companies tap the potential of online reputation management and social media monitoring. She's spent the last decade or so raising funds, building brands for companies of all sizes, and messing with all things online.
Amber blogs at Altitude, focusing on elevating brands through practical and common-sense use of social media and online communication.
She's involved in several industry organizations including as a founding member of Social Media Club Chicago. Knee deep in social networks before they had a name, Amber is passionate about helping companies and customers build and share brands, together.

Who Should Attend?
Product marketing, marketing communication, and marketing strategy professionals who are seeking best practices for using Web 2.0 in their marketing plans.
What Will You Learn?
Different community roles and their place in business, and why "management" might be a misnomer.
How to talk to your boss about the importance of community.
Guiding principles and best practices in community building and engagement (bridging online and offline, content and resource creation, cultivating vs. "collecting" an audience, why there's no such thing as "just add water," empowering community members...stuff like that).
How to measure and articulate the impact of your community efforts.
Social Media Summer Series
Register Now!
You have two choices. You can pay as you go, buying single sessions that interest you. Or you can buy a PRO membership, and attend all our new PRO seminars and Take 10 webcasts over the next year, plus watch hundreds more from our library on-demand.
Questions?
Call our PRO Hotline: (866) 557-9625