Monetizing the Long Tail of Search: Rethink Your Keyword Strategy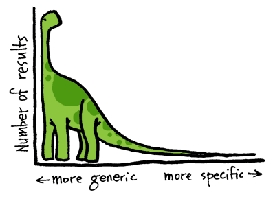 Presenter:

Avinash Kaushik

Broadcast:

Thu., Nov. 12, 2009, 12pm ET (9am PT)

Length:

90 minutes

Rating:
Bing, Yahoo!, Google and other search engines are a key acquisition channel for any web based entity, be it through organic search listings or via paid search listings. Yet precious few Online Marketers and CEOs understand that amazingly unique phenomenon called "the long tail" of search and how incredibly valuable it can be to any business.
We tend to focus on key words when life is about key phrases. We tend to obsess, stalk and harass our brand terms while completely missing the boat on the magnificently huge number of category terms. We tend to struggle to find the right balance between where to deploy our Organic Search strategy vs our Paid Search strategy.
Sounds like that's you?
This seminar is for you. The goal will be to explain, in simple terms, the phenomenon of the long tail, and how different types of customers seek information (about you!). You'll use information covered in this seminar to rethink your search strategy, how you identify key words and phrases used to target potential customers and finally how to measure success.
Presenter

Avinash Kaushik is the author of the newly published book Web Analytics 2.0 and best-selling book Web Analytics: An Hour A Day. He is also the Analytics Evangelist for Google and the co-founder of Market Motive, Inc.
Avinash works with some of the largest companies in the world to help them evolve their online marketing strategies to become data-driven and customer-centric organizations. He recently received the 2009 Statistical Advocate of the Year award from the American Statistical Association.
He is also a frequent speaker at industry conferences in the U.S. and Europe, such as Ad-Tech, Monaco Media Forum, iCitizen, and JMP Innovators' Summit, as well as at major universities, such as Stanford University, University of Virginia, and University of Utah.
You'll find Avinash's web analytics blog, Occam's Razor at http://www.kaushik.net/avinash.

Who Should Attend?
This seminar's biggest impact might be to shift your fundamental search strategy in as much Senior Executives will find it to be most productive. The second half of the seminar will be deeply practical hence Online Marketers, Paid Search Specialists, Web Analysts and Sales professionals will find actionable tips as well.
No prior God (like mastery of math) is required, and you don't have to know a particular tool. As long as you touch your website you will find attending this webinar will improve your chances at getting a promotion.
What Will You Learn?
Why your Search strategy should include a focus on the long tail of search.
How to identify the relevant long tail search phrases for your business.
Tools that you can use to create areas of focus for you paid search and organic search strategies.
How to measure success of "Upper Funnel" keywords.
An overview of current campaign attribution models.
Webstorm Seminar Series
| | |
| --- | --- |
| This is the second topic in our Webstorm Seminar Series, a perfect storm of seminars to help you supercharge your website. PRP members have access to these and all our seminars! | |
Register Now!
You have two choices. You can pay as you go, buying single sessions that interest you. Or you can buy a PRO membership, and attend all our new PRO seminars and Take 10 webcasts over the next year, plus watch hundreds more from our library on-demand.
Questions?
Call our PRO Hotline: (866) 557-9625