Eight Secrets to More Successful Collaboration Between Sales and Marketing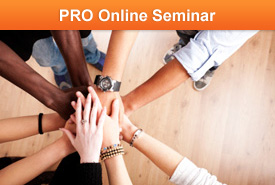 Presenter:

Matt Heinz

Moderator:

Jennifer Kelly

Broadcast:

Thu, Dec 12, 2013, 12pm ET

Length:

90 minutes

Rating:
The concept of needing sales and marketing to work together isn't new. It's been an issue, if not a focus area, for as long as sales and marketing teams have been working together (at least in theory) to drive sustainable growth for their businesses.
In this PRO seminar, we will discuss eight best practices that will help your organization (or your clients) accelerate their path towards sales and marketing collaboration nirvana.
Presenter

Matt Heinz is president of Heinz Marketing, a Redmond-based sales & marketing firm. His career has focused on delivering measurable results for his employers and clients in the way of greater sales, revenue growth, product success, and customer loyalty. He has held various positions at companies such as Microsoft, Boeing, The Seattle Mariners, Market Leader, and Verdiem. Matt lives in Kirkland, Washington with his wife, Beth, three children, and a menagerie of animals (a dog, two cats, and six chickens).

Who Should Attend?
Small business owners and individuals in marketing and sales who are in demand-generation, sales management, or marketing communications roles.
What Will You Learn?
How to get buy-in from sales and marketing leadership
How to create a dashboard of performance metrics
How to drive collaboration
A rhythm of communication to use both across teams and with management
Register Now!
You have two choices. You can pay as you go, buying single sessions that interest you. Or you can buy a PRO membership, and attend all our new PRO seminars and Take 10 webcasts over the next year, plus watch hundreds more from our library on-demand.
Questions?
Call our PRO Hotline: (866) 557-9625