Getting Through and Staying Clean: Better Email Deliverability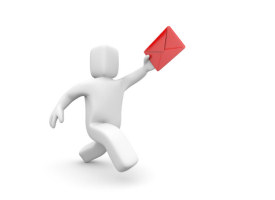 Presenters:

Karen Talavera, James O'Brien

Broadcast:

Thu., Aug. 14, 2008, 12pm ET (9am PT)

Length:

90 minutes

Rating:
According to Jupiter Research, approximately one-third of marketers report email delivery rates of 80% or less, and approximately one-quarter are unsure of their metrics. Only about half of all email sent worldwide is authenticated, the major receivers, like Yahoo, AOL, Google, Comcast or Bellsouth, routinely junk between 20% and 30% of permission email.
Clearly there is room for improvement and a necessity for differentiating your email messages from the widely reported 90% of email traffic that gets dumped on the floor at ISPs. There is increasingly less room for error as compliance is more clearly defined and email reputation matures and standards are tightened. Marketers wish to see their email not merely survive, but thrive. It's about delivery and conversion.
Join us for this first of two seminars designed especially for email marketers. We explain the intricate landscape of email deliverability and the components you must master to improve and/or sustain it. We will de-mystify concepts such as authentication, compliance, reputation management, relevance and permission while helping you understand how to employ best practices in these areas so they work in concert with one another to optimize your email efforts.
Presenters

Karen Talavera is a nationally recognized email marketing expert and President of consulting firm Synchronicity Marketing. Over the past decade through both public and private seminars, she has taught literally thousands of marketers how to understand email marketing, tactically implement it, and strategically improve marketing results through it. She teaches email marketing and speaks on a variety of related topics for the Direct Marketing Association, Email Experience Council, Fortune 500 Corporations, and several regional interactive and marketing associations.

James O'Brien is Director of Marketing at LashBack, LLC and a strong advocate for email marketers and consumers alike. He has been invited to speak about email compliance by the Email Experience Council, Direct Marketing Association, Affiliate Summit, Florida Direct Marketing Association, Partner Weekly Publisher's Conference, the Gateway Interactive Marketing Association and the Direct Response Client Summit. James evangelizes the power of compliance to drive reputation and deliverability and to make email the medium of choice for advertisers, publishers and ad networks.

Who Should Attend?
Email Marketing professionals in all industries
Customer retention and/or relationship marketing professionals
Affiliate and acquisition marketers or network operators
Online Marketing Directors
Compliance officers
What Will You Learn?
The legal requirements of the CAN-SPAM Act, how to stay in compliance with it, and the FTC's recent new rule provision
Beyond the law, ensuring you follow best practices and ISP expectations for commercial email and affiliate marketing
How the ISPs determine whether to let your message through, where it might end up, why and what to do about it
Register Now!
You have two choices. You can pay as you go, buying single sessions that interest you. Or you can buy a PRO membership, and attend all our new PRO seminars and Take 10 webcasts over the next year, plus watch hundreds more from our library on-demand.
Questions?
Call our PRO Hotline: (866) 557-9625