Customer-Centric Communications: It's All Different Now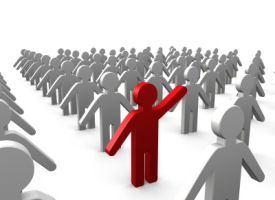 Presenter:

Jeff Krawitz

Broadcast:

Thu., May 24, 2007, 12pm ET (9am PT)

Length:

90 minutes

Rating:
MarComm is probably the most thankless job in marketing. It seems that everyone knows how to say it better than you did. The problem is that we all know how we like to be communicated with and that becomes our standard for communicating to others. Right? Wrong!

People listen—and take action—when you speak their language about things they value. Each of us wants what we want, when we want it, in the format that we like. In MarComm, it's our job to do that, one customer at a time. And that's simple if you have two or three customers. It gets a bit tricky when you have a few thousand or more.

Technology has enabled us to customize our messaging in ways we could only dream about a few years ago. It's time to step up and use that ability. After all, if you don't and your competitors do, they win. And you lose. And that's just not acceptable!

Note to Premium Plus members: Be sure to check out the web recording of Jeff Krawitz's earlier seminar, Delivering Presentations That Make the Sale. It received the highest possible audience rating.


Presenter

Jeff Krawitz combines academic theory with practical applications to construct unique and workable solutions to marketing/sales problems. During his 24 years in the high-tech electronics industry, Jeff learned how to get people to listen and actually do something about what they heard. This is the practical side of Jeff's material and approach. Since 1996, Jeff has taught courses in Sales, Sales Management, and various aspects of Marketing at the university level – developing the more theoretical side of his material – as well as consulted with companies focusing on marketing/sales effectiveness.
Currently, Jeff is a Principal at Customer Manufacturing Group, a marketing/sales consultancy based in California. Also, he regularly teaches in the Graduate School of Business at Columbia University as well as NYU's Stern School of Business, both in New York City.

Who Should Attend?
Marketing communication managers and professionals in either B2C or B2B organizations.
What Will You Learn?
The "Who/What/How" approach to customer-centric marketing
Saying what customers want to hear through a unique approach to thinking like they do
Techniques for "speaking in the customer's language"
How to translate your marketing gobbledygook into things your customers value
How to be customer-centric even in a non-customer-centric organization
Register Now!
You have two choices. You can pay as you go, buying single sessions that interest you. Or you can buy a PRO membership, and attend all our new PRO seminars and Take 10 webcasts over the next year, plus watch hundreds more from our library on-demand.
Questions?
Call our PRO Hotline: (866) 557-9625