Social Media for Marketers: A 15-Step Process to Engage with Your Customers Online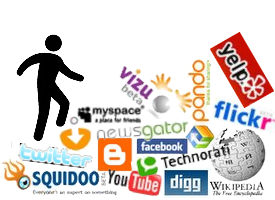 Presenter:

Geoff Livingston

Broadcast:

Thu., Mar 13, 2008, 12pm ET (9am PT)

Length:

90 minutes

Rating:
Things aren't quite so simple for marketers any more. One-mass communication-based approaches don't work quite the same way. (Take a look at this 2-minute "break up" movie to see what we mean.)
If you use old marketing tactics in this new media world, in fact, the results can backfire on well-meaning companies, who are then left with dead-blogs, unviewed videos and languishing social network accounts. Instead, the smartest companies are pairing a change of strategy, and —just as important—attitude and tone with a community-based content creation approach. The results? They are successfully re-engineering their marketing for new media success.
This seminar will cover the steps to generate an outstanding social media marketing effort that will compel your online communities to engage.
Presenter

Geoff Livingston has worked as a marketing strategist in the Washington, DC region for 14 years. He creates marketing strategy, media relations, branding and Internet marketing campaigns for public and private organizations. Some of his experiences include work for AT&T, the Duke Ellington Jazz Festival, former Israeli Prime Minister Benjamin Netanyahu, Bartleby Books, BEA Systems, Hughes Network Systems, ManTech, the Washington Nationals, Intelsat, Verizon Wireless and many others.
Geoff is author of the recently published book, Now Is Gone: A Primer on New Media for Executives and Entrepreneurs .

Who Should Attend?
Product marketing, online marketing, marketing communication and public relations professionals who need to engage with online communities on behalf of their company.
What Will You Learn?
How to research social media communities to find your stakeholders' issues
How to build a compelling Editorial Mission your community finds valuable
How to ensure the corporate value proposition succeeds
How to inspire your community to believe in the company's social media
Tips to ensure your social media effort stays on track
Register Now!
You have two choices. You can pay as you go, buying single sessions that interest you. Or you can buy a PRO membership, and attend all our new PRO seminars and Take 10 webcasts over the next year, plus watch hundreds more from our library on-demand.
Questions?
Call our PRO Hotline: (866) 557-9625