When the Budget Axe Falls: What to Cut, What to Keep, What to Grow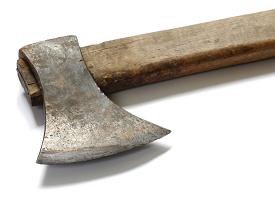 Presenter:

Pat LaPointe

Broadcast:

Thu., Mar. 12, 2009, 12pm ET (9am PT)

Length:

90 minutes

Rating:
Most of us have already been through at least one round of budget cuts where all the "fat" disappeared and the items of marginal importance were eliminated. But if youíre being asked for subsequent rounds of cuts, or fear you may be, youíre faced with very hard decisions about cutting into the muscle and bone of your marketing programs in ways that are supposed to leave at least some foundation of effectiveness for the future.
To help accomplish that, this online seminar will address the following questions:
How do I identify alternative cutting strategies beyond the obvious?
How do I assess the relative impact of cutting in one way versus another?
Where is there still likely to be "waste" in our marketing plan which I can eliminate?
How do I help the company most when all the options look bad?
How do I preserve my credibility while all around me are compromising theirs?
This seminar will introduce you to a more strategic framework for making very difficult cutting decisions ó one that even the finance department will respect. Itís guaranteed to get you thinking differently about cuts you have to make to leave both you and the company ready to fight again another day.
Presenter

Pat LaPointe is Managing Partner of MarketingNPV where he directs the development of client solutions for CMOs in the areas of skills, structure, processes, and tools to improve marketing measurement through greater alignment and accountability.

His book Marketing by the Dashboard Light: How to Get More Insight, Foresight, and Accountability from Your Marketing Investments
is a pioneering work on the topic of marketing dashboard development.
Prior to launching MarketingNPV in 2003, Pat was an equity partner and senior vice president at Frequency Marketing Inc., a consulting and software company known for design and operation of large-scale customer retention and loyalty programs. Pat also directed the operation of a marketing department at Bell Atlantic (now Verizon), creating and implementing customer acquisition and development programs for both B2B and consumer markets. He started his career in advertising in the Y&R network and at Ketchum, where he managed large client portfolios in all aspects of marketing strategy and communications.
Pat is an MBA graduate of Stern School at NYU and holds a B.Comm. from McGill University in Montreal.
Who Should Attend?
Marketing managers pressed to deliver aggressive cost cutting targets.
Finance managers supporting the marketing function.
Sales or operations managers with a stake in how the marketing budget emerges after cuts.
What Will You Learn?
Looking beyond the conventional cutting wisdom
Defining the right set of objectives for cutting "successfully"
Four possible frameworks for prioritizing cutting options
Selecting the framework thatís right for you
You will leave this seminar with an entirely new way of thinking about cutting strategically, along with four approaches you can use to identify your targeted reductions and make the case to executives.
Register Now!
You have two choices. You can pay as you go, buying single sessions that interest you. Or you can buy a PRO membership, and attend all our new PRO seminars and Take 10 webcasts over the next year, plus watch hundreds more from our library on-demand.
Questions?
Call our PRO Hotline: (866) 557-9625