The Digital Marketing Mixer Sneak Peek: Fire-up Your Digital Marketing Strategy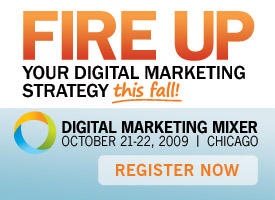 Presenter:

The Mixologists

Moderator:

Ann Handley

Broadcast:

Thu., Oct. 1, 2009, 12pm ET (9am PT)

Length:

60 minutes

Rating:
Join us as our own Ann Handley hosts our Digital Marketing "Mixologists" in this online conference sneak peek. What exactly is a Mixologist? They are the ambassadors to our upcoming Digital Marketing Mixer, October 21-22 in Chicago.
Watch these resident experts as they show you how the unique sessions at the Digital Marketing Mixer will solve your most challenging digital marketing problems. You will grab solid take-aways to fire up your digital marketing strategies and ultimately increase sales and revenue. Mixing it up with the best minds in the business has never been more fun or productive.
IT'S NOT TOO LATE! You can replay the original broadcast right now to help you decide whether this event is right for you.
Presenter

The Mixologists

Ann Handley is the Chief Content Officer of MarketingProfs—which means that she heads up All Things Content on the MarketingProfs Web site and is the Primary Caregiver of the MarketingProfs Daily Fix blog. She also blogs at The Huffington Post as well as her personal blog, Annarchy. Prior to that, she was the co-founder of ClickZ.com. Even before that, she was a longtime freelance journalist writing on everything from local politics to babies to travel to start-ups and banking and humor. (And sometimes, several topics at once.) She wrote regularly for the Boston Globe as well as a million (give or take) mainstream and trade publications.
Ann's guests include:

Jason Baer
President, Convince & Convert
Jason Baer is a forest-dwelling restaurant critic with a passion for Tequila and all things social media. As President of Convince & Convert, Jason consults with corporations and public relations firms, helping them harness the awesome power of social media strategy. He spreads his "think social media tools last, not first" message through numerous conference speaking gigs, his Convince & Convert blog, and social media training seminars. Jason spent 15 years running digital marketing agencies, and has consulted for more than 700 companies - and 25 of the Fortune 1000. He's @jaybaer on Twitter.

Becky Carroll
Founder, Petra Consulting Group/Customers Rock!
Becky's consultancy is focused on engaging customers through conversation, social media, and WOW customer experiences. Becky's clients have included companies such as EA, HP, Fujitsu, and Ford in addition to executives, small businesses and non-profits. She is the author of the top business blog Customers Rock! and teaches the class "Marketing via New Media" at UCSD. Becky is a regular personality on the nationally-syndicated Big Biz Talk Radio show, and a contributing author on the recently-released Age of Conversation business books. Previously, Becky served as Director of Social Media for Brickfish and as a Senior Consultant with Peppers and Rogers Group. She also worked at HP for 14 years, including her role as Director of Marketing, UK.

Beth Harte
Community Manager, MarketingProfs
Beth Harte is a marketer, blogger, speaker, communicator, thinker, connector (people & dots), adjunct professor and Community Manager for MarketingProfs. Beth has over 14 years of experience in integrated marketing communications, strategic planning, branding, SEO/SEM and five years of experience with social media. Beth speaks on a range of marketing, communications, and social media topics including brand monitoring and management, Social Media Measurement & ROI, and Public Relations 2.0. Beth's blog, The Harte of Marketing is featured in AdAge's Power 150, a globally recognized ranking of top media and marketing blogs. Beth also blogs for MarketingProfs Daily Fix.

Stephanie Miller
Vice President, Market Development, ReturnPath
Stephanie is a customer advocate, and an expert in creating amazing online experiences that build brands and drive revenue. With 20+ years of direct marketing and publishing experience, she helps online publishers and marketers optimize their email channel revenue, starting with inbox deliverability. A frequent speaker and writer, Stephanie is a fierce advocate for caring email marketers everywhere. She is the co-author of Sign Me Up: A Marketer's Guide To Email Newsletters that Build Relationships and Boost Sales.
Who Should Attend?
All B2B and B2C marketers who focus on email, search, and social media marketing and who are looking to fire-up their marketing with new fresh strategies.
What Will You Learn?
How the Digital Marketing Mixer will help you solve your most pressing digital marketing problems
What you must know to keep up with the latest trends in email, search and social media
How to engage your customers and integrate your marketing programs to boost your ROI
Register Now!
You have two choices. You can pay as you go, buying single sessions that interest you. Or you can buy a PRO membership, and attend all our new PRO seminars and Take 10 webcasts over the next year, plus watch hundreds more from our library on-demand.
Questions?
Call our PRO Hotline: (866) 557-9625