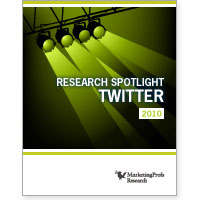 Research Spotlight: Twitter
As a marketer, you can approach marketing on Twitter in two ways: 1) go in it without any data or research, assume your audience is there, and hope for the best or 2) arm yourself with essential information like who is on Twitter, what they're doing, and what Twitter tactics other businesses have used successfully. We recommend the latter.
You can get all that valuable data and more in our Research Spotlight: Twitter. With 70 pages, the report is filled with the latest Twitter research, charts, and information you need to develop a highly effective Twitter marketing program (reflects 2009 - 2010 data). Plus, you'll discover:
Who Is Using Twitter? Verify that Twitter is an effective channel for connecting with your target audience.
How Are People Tweeting? Develop an understanding of how Twitter is generally accessed and used.
How Are Businesses Using Twitter? Get an insider's view into how consumer-focused and business-to-business companies are using Twitter to reach their marketing objectives.

This essential report is a behind-the-scenes look at what you need to stay competitive and keep your Twitter strategy on track. Access it today and be sure you're spending your time and money at the right time on the right channel.
This is just one of over 4000 marketing downloads, templates, guides, research reports, surveys, case studies and how-to articles INCLUDED with PRO Membership. Sign up today