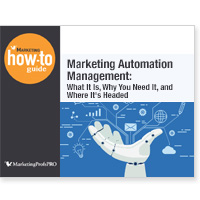 Marketing Automation Management: What It Is, Why You Need It, and Where It's Headed
In using marketing automation platforms, organizations can design, manage, and automate everything from the corporate website to multichannel campaigns. And because marketing automation can be integrated with your CRM solution, your content management system, and your email systems, these platforms offer a measurable, end-to-end view of myriad marketing activities.
The potential of these systems is undeniably appealing, yet it leaves most marketers with questions:
Is this for real?
How much will it cost?
Does the IT department have to get involved?
Do I need the whole thing, or can I start with a piece of it?
How do I know if this is even right for my organization?
The answer to the first question is, "Yes! The power of marketing automation is very real, and very real companies are using automation to grow and thrive." (Check out the case studies at the end of this report for real-life examples.)
However, the process of selecting a vendor that is right for you—not to mention the process of implementing a system both technically and organizationally—can be daunting.
This 18-page guide will help you better understand the capabilities of marketing automation systems and how to make best use of them—plus, we provide resources for learning more.
You will learn how to:
Understand the capabilities of marketing automation systems
Determine the right automation system for your needs
Recognize how artificial intelligence is changing how marketers use marketing automation
... and much more!
This is just one of over 4000 marketing downloads, templates, guides, research reports, surveys, case studies and how-to articles INCLUDED with PRO Membership. Sign up today