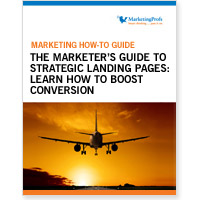 The Marketer's Guide to Strategic Landing Pages: Learn How to Boost Conversion
A well-built landing page program may be the smartest thing your company can do since launching a website; it's one of the cheapest and most effective ways to optimize conversion rates and generate higher returns on all types of marketing campaigns. Why pump more dollars into an ad program if visitors are simply going to drop off post-click? It pays to greet them the right way, and we're going to show you how.
In this 39-page report, you will learn:
Why landing pages are essential to any marketing program.
What makes a great landing page.
How to integrate landing pages into the marketing mix.
How to get organizational buy-in.
If you've been focusing all of your resources on getting that initial click; if you're already driving traffic to dedicated landing pages but aren't seeing the results you expected; or if you simply want to improve your conversion rates ... this guide is for you.
This is just one of over 4000 marketing downloads, templates, guides, research reports, surveys, case studies and how-to articles INCLUDED with PRO Membership. Sign up today