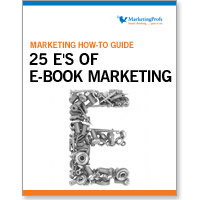 The 25 E's of E-Book Marketing
Like Neil Patrick Harris's acting career, e-books are back—and better than ever.
The current reincarnation of the original boasts broader reach, thanks to more widespread public familiarity with the format and a regular stream of new consumer devices like tablets and e-readers that are changing the way people read and access books, news, and other information.
Today's e-books also enjoy more interactive capabilities that can engage audiences on a deeper level, appeal to different content consumption preferences, and contend with the excitement that consumers have come to expect from the digital sphere.
This 31-page e-book spells out how marketers from all industries can use these content marketing gems to catalyze their business and marketing objectives and maximize engagement, loyalty, and advocacy.
You will learn:
How to capitalize on the e-book trend
The steps necessary to create a successful e-book
Tips for testing, gathering feedback, and evolving with trends and your audience
If you've always wondered if e-books are a good fit for your business, this one is for you!
This is just one of over 4000 marketing downloads, templates, guides, research reports, surveys, case studies and how-to articles INCLUDED with PRO Membership. Sign up today