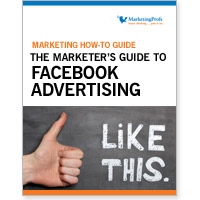 The Marketer's Guide to Facebook Advertising
Social advertising is on the rise and nowhere more so than on Facebook. In fact, Facebook isn't merely the leading advertising platform among social media sites, it's officially the largest publisher of online display ad impressions.
Despite Facebook's notoriously low click-through rates, the increase in number of ads displayed per page, and high advertising rates, advertisers come in droves and even give the network high marks. Among local businesses surveyed for MerchantCircle's sixth Merchant Confidence Index report, 64.9% of those who have used Facebook Ads say they would do so again.
You may be wondering why. There's good reason, and this 35-page guide will tell you what it is. We'll also give you a 10-step process for getting started with Facebook Ads the right way, so you can get the biggest bang for your buck.
You will learn:
Why Facebook Ads are worth your while (and money)
How to target the right audience
Do's and don'ts for writing your ad copy (and picking creative)
How to measure your results
And more (lots more)
If you've always wanted to give Facebook Ads a try and just haven't known where to start, this guide is for you!
This is just one of over 4000 marketing downloads, templates, guides, research reports, surveys, case studies and how-to articles INCLUDED with PRO Membership. Sign up today