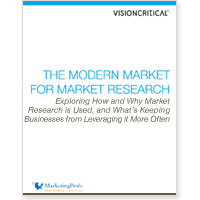 The Modern Market for Market Research
The concept of market research is nothing new. By some accounts, it dates back to the 9th and 10th centuries B.C. when, according to an account by Lawrence C. Lockley in the Journal of Marketing, the Israelites would send out interviewers to survey the quality of produce at local markets and collect feedback from customers buying their wares.
Not much has changed in 3,000 years, except, of course, for minor improvements to technology, data collection, and customer access.
Today, market research is as relevant and powerful as it's ever been, largely because modern technology has made it a far more accessible and cost effective practice.
The data in this 9-page research report will teach you more about:
Key business issues for 2012 and common decision drivers
Common Market Research behaviors and attitudes
How and why businesses use Market Research
Market Research budget allocation
The role of intelligence data and CRMs in Market Research
This is just one of over 4000 marketing downloads, templates, guides, research reports, surveys, case studies and how-to articles INCLUDED with PRO Membership. Sign up today