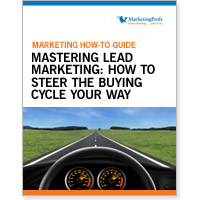 Mastering Lead Marketing: How to Steer the Buying Cycle Your Way
Does your company's sales cycle appear to be accelerating now that the Internet has afforded us this sort of communication superhighway? Time to clean that windshield ... because sales cycles have actually gotten longer, according to research from SiriusDecisions.
Whereas sales teams once held the keys to the information that buyers need to form a decision, buyers can now capably research those details on their own via the Web. This changes the sales cycle considerably, because your sales reps have substantially less time to interact with prospects and influence the sale, should those prospects ever decide to show up.
Well, it's Marketing's turn to drive. It's up to you now to engage prospects earlier in the process and steer them in your company's direction in a way that supports prospects' research and decision-making process.
This 33-page guide explains how you can do that. It offers 16 "road rules" for lead marketing success in the digital age and a graphic road map of the B2B buyer's journey marking out where and how you can merge into the flow of traffic.
You will learn:
New, non-traditional ways to engage prospects earlier in the buying process
Tips for creating best-in-class lead marketing campaigns
All about your buyers' decision making process
Details and success stories of other B2B companies who can inspire your campaigns
If you've been looking for an edge and want to overhaul your sales cycle, this guide is for you!
This is just one of over 4000 marketing downloads, templates, guides, research reports, surveys, case studies and how-to articles INCLUDED with PRO Membership. Sign up today