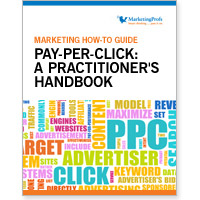 Pay-Per-Click: A Practitioner's Handbook
Pay-Per-Click (PPC) marketing (or advertising) is one of the most popular online methods of getting information to customers quickly so you can sell your products and services. Where do you start? How do you work PPC into your current marketing program?
This 29-page how-to guide will walk you through the ins and outs of PPC so you can use it to its fullest potential.
You will learn:
Pros and cons of PPC marketing
The difference between PPC and Search Engine Optimization (SEO)
Tips and strategies to consider before launching a PPC campaign
How to measure the results of your campaigns
If you're a marketer looking to take your online campaigns to the next level, this how-to guide is for you!
This is just one of over 4000 marketing downloads, templates, guides, research reports, surveys, case studies and how-to articles INCLUDED with PRO Membership. Sign up today