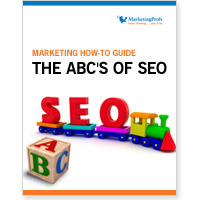 The ABC's of SEO
Why SEO? The majority of online experiences—including those of your customers and prospects—begin with search. And when those customers and prospects launch a query related to your products and services, you want to be there, at the top of the list and ready to assist, because these are some of your most qualified leads.
Much has changed in recent years with regards to SEO and the process of earning top rank ... this 38-page guide will bring you up-to-speed and get you on your way in no time.
You will learn:
What's "the new black" for SEO
The key to winning top rank on a Google search results page
Which keywords you should target most
Which optimization tactics and strategies can incur penalties
What you can do right now to get started
... and lots more!
If you're a marketer looking to dive into the ever-changing world of SEO, this guide is for you!
Want to try before you buy? Click the Look Inside button on the left for a short excerpt.
This is just one of over 4000 marketing downloads, templates, guides, research reports, surveys, case studies and how-to articles INCLUDED with PRO Membership. Sign up today