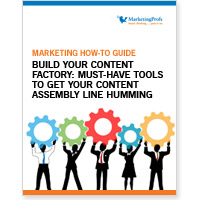 Build Your Content Factory: Must-Have Tools to Get Your Assembly Line Humming
It's no secret that success in content marketing comes with fresh, relevant, and tasty content. But, these days, good content is just not good enough. You need great content, and you need to be able to produce it quickly and efficiently.
Becoming a finely tuned content creating machine isn't too difficult: just eat, sleep, and drink content creation. No problem, right? That is, until reality sets in and you realize doing all that is easier said than done.
This 24-page guide lays out all the tools you'll need to manage and create content for your organization—from editorial calendars to content aggregators and curators to blog platforms, content organizers, presentation software, video and podcast tools ... and more!
You will learn:
What tools are available for your content-related responsibilities
What those tools do and how they do it
How well (or not) the tools do what they're supposed to do
If you're looking to get your content wheels turning, this guide is just what you need!
This is just one of over 4000 marketing downloads, templates, guides, research reports, surveys, case studies and how-to articles INCLUDED with PRO Membership. Sign up today