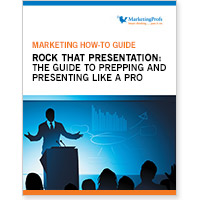 Rock That Presentation: The Guide to Prepping and Presenting Like a Pro
Presentations can be highly persuasive tools for influencing decisions and opinions, as well as for obtaining compliance and consent. But the information you present, and how you present it, must be interesting enough for the audience to pay attention and hear your message—an honor that doesn't come as easily as one might think. Good news: we're here to help!
This 24-page guide is designed to help you create and deliver presentations that grab attention, elicit respect, and—most important—achieve results.
You will learn:
Which topics will capture your audience's interest
How to design your presentations so they build trust and keep your audience engaged
Tips and tricks for making a dazzling appearance and assuring your presentation goes off without a hitch
... and lots more!
If you're a marketer looking for actionable advice on how to present like a pro, this guide is for you!
This is just one of over 4000 marketing downloads, templates, guides, research reports, surveys, case studies and how-to articles INCLUDED with PRO Membership. Sign up today