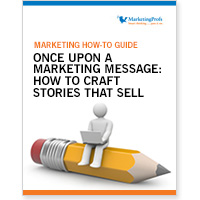 Once Upon a Marketing Message: How to Craft Stories That Sell
Look around. There's magic in your midst, and you—yes, you—possess the very tool needed to work its wonders. This "wand" that we call storytelling might not come with a phoenix-feather core, but there's little denying the age-old power it holds for altering perceptions and stirring people to act—when wielded properly, that is.
And therein lies the key: This mighty tool must be handled just right, and generally speaking, that takes training and practice.
This 27-page guide will teach you how to choose an appropriate story for your audience and goal and tell it in a way that captures their hearts and minds.
You will learn:
Different ways to use stories to your advantage
How to craft messaging that resonates with your audience
How to inspire your audience to act
If you're a marketer looking to connect emotionally with your audience and make some magic with your next campaign, you won't want to miss this PRO How-To Guide!
This is just one of over 4000 marketing downloads, templates, guides, research reports, surveys, case studies and how-to articles INCLUDED with PRO Membership. Sign up today