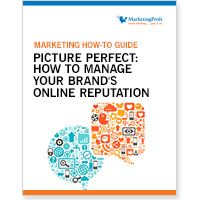 Picture Perfect: How to Manage Your Brand's Online Reputation
Congratulations! Someone's in the market for your product or service, and they just searched for your brand name. This may be your first (and possibly, only) shot at convincing them to move forward with your brand, so it's important to know what that prospect finds on that search engine results page. Go ahead, do a quick search ... see for yourself.
If your company comes up first, give yourself a quick pat on the back. Google has recognized your site as the leading authority on your brand—as it should, seeing as you are the leading authority on your brand. But that's not to say your work is done.
Eye-tracking studies have shown that people take in much more than just the first listing on the page. What can you do to influence those other listings and neutralize the negatives (think competitor listings and not-so-great reviews)?
This 26-page guide walks you through just that. You'll learn how to foster credibility and dazzle in search, so you can lure in those prospects and convert them into valuable customers.
You will learn:
How to get more company-owned listings to appear on the first page of search results
How to get good press and trust-building features on other websites to complement those owned listings
How to minimize the impact of any negative comments and reviews that may still manage to rank well
If you've been dying to dominate search, you won't want to miss this How-To Guide!
This is just one of over 4000 marketing downloads, templates, guides, research reports, surveys, case studies and how-to articles INCLUDED with PRO Membership. Sign up today