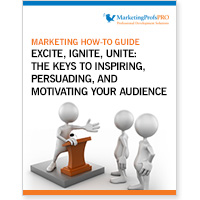 Excite, Ignite, Unite: The Keys to Inspiring, Persuading, and Motivating Your Audience
With all the planning and preparation ... the time taken away from regular work that still must get done ... the anticipation ... the anxiety ... the lost hours of sleep ...
This presentation of yours better be worth it, right?
It doesn't matter if you're meeting with a new prospect, presenting at a company event, running a staff meeting, having a one-on-one with your boss, hosting a webinar, or speaking in front of hundreds—or perhaps thousands—of strangers. Whatever the case, there's a reason you're doing this, and this may be your best, if not only, chance for getting your ideas across, getting your audience on board, and making the right impression.
So you have to get it right.
Don't worry—we've got your back. In this 25-page guide, you'll learn how to excite, ignite, and unite your audience, however big or small, so that they'll be inspired, persuaded, and motivated to move forward with your recommendations.
You will learn:
How to craft an engaging introduction that captivates your audience in the first five minutes of your presentation
How to bond with your audience
How to present yourself professionally and make a good impression
... and much more!
This is just one of over 4000 marketing downloads, templates, guides, research reports, surveys, case studies and how-to articles INCLUDED with PRO Membership. Sign up today