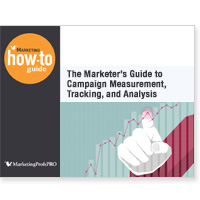 The Marketer's Guide to Campaign Measurement, Tracking, and Analysis
Marketing used to be an art. These days, it's more like a science.
Sure, creativity and the ability to finesse compelling messaging still reign, but now, we also have the ability to understand whether that creativity made any difference, just how compelling that messaging is, and how to refine it for better results.
Today, we have the ability, and the need, to figure out the dollar-by-dollar contributions that our marketing campaigns and their various components make—because that's what senior management really cares about, and that's what you can give them using the processes laid out in this guide.
In this 26-page guide, you'll learn how to prove the success of your campaign by understanding measurement, tracking, and analysis.
You will learn:
What you need to measure and how to choose the right metrics
How to design your systems and campaigns to deliver the right data and make it actionable
How to figure out what works and what doesn't, and your best options for improvement
This is just one of over 4000 marketing downloads, templates, guides, research reports, surveys, case studies and how-to articles INCLUDED with PRO Membership. Sign up today