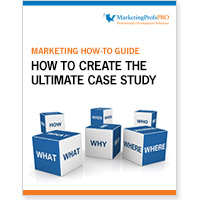 How to Create the Ultimate Case Study
Online content has become a critical marketing component now that buyers are performing their own research and narrowing their options before reaching out to vendors. In fact, close to nine out of ten B2B buyers say that online content now has a major or moderate impact on their vendor preference and selection, according to a recent report by the CMO Council.
Marketers are responding by effectively inundating these searchers with so-called content in the hopes of earning their brands a spot in the consideration pool. Sadly, most are failing to meet these searchers' needs.
In search of unbiased information, buyers instead turn their focus to content released by professional associations and industry groups they trust—though there is one form of branded content that appears to be making the cut: Case studies.
In this 28-page guide, you'll be given an 8-step plan for creating the ultimate case study—one that will meet your prospect's needs, and in turn, help you get the results you want.
You will learn:
How to determine the right goal to get the results you want
How to find the right subject to write about
Tips for spreading the word about your case study and making it easy to find
... and more!
This is just one of over 4000 marketing downloads, templates, guides, research reports, surveys, case studies and how-to articles INCLUDED with PRO Membership. Sign up today