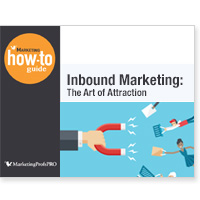 Inbound Marketing: The Art of Attraction
Buyers are 60% of the way to a decision before they contact sales, according to Forrester. How they get there, and what influences them along the way, is as much art as it is science.
Enter inbound marketing.
Inbound marketing is not a tactic, but a process. It's a way of looking at the customer relationship that parallels any other: first, you determine whether there's a mutual attraction, then you go about building a relationship based on shared interests and values. Whether it's a platonic relationship or a romantic one that you're pursuing, it's premised on respect—something that insistent, interruptive, old-school outbound marketing techniques didn't allow for. Relationships today are built with information. Forging them requires a firm grasp of your company's buying cycle and ideal customers, an understanding of the power of quality content, and the acknowledgement that, as a marketer, you are not in control. The customer is.
In this 22-page guide, you'll learn how to understand the true value your company has in the marketplace, create great content in multiple iterations that meets customers where they are, and market your content across multiple channels to cement the relationship and convert prospects to leads.
You will learn:
How to establish a sound strategy
How to develop content for each stage of the buying cycle
How to distribute your content to maximize its reach
... and much more!
This is just one of over 4000 marketing downloads, templates, guides, research reports, surveys, case studies and how-to articles INCLUDED with PRO Membership. Sign up today