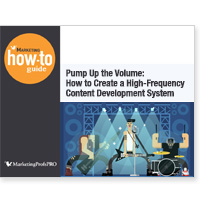 Pump Up the Volume: How to Create a High-Frequency Content Development System
The results are in, and marketers want more: more content showing up in search, more content driving visitors to their websites, more content being shared on social media, and more content guiding prospects through the sales cycle.
Of course, more time to dedicate to these activities would be nice, too. A recent study by Trapit found that, on average, marketers spend 28% of their time on content marketing, but half of those surveyed would prefer to allocate at least 43% of their time to these activities if they could.
Also, more budget to employ more full-time writers and designers would sure help out. Unfortunately, not all of us have access to such luxuries.
If this sounds familiar, then this 35-page guide is for you. You'll learn how to establish an effective system for pumping out more content using the resources already at your disposal. You'll be able to create high-quality, results-oriented content that appeals to your audience, supports your sales process, and generates the kinds of results that help your leadership team see why even more content and more dedicated resources are in order.
You will learn:
How to find (and recruit) more content producers
How to devise and implement an effective content strategy
How to learn from your efforts and continually improve your content marketing approach
… and much more!
This is just one of over 4000 marketing downloads, templates, guides, research reports, surveys, case studies and how-to articles INCLUDED with PRO Membership. Sign up today