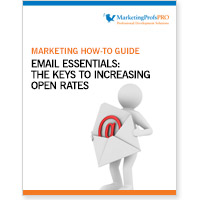 Email Essentials: The Keys to Increasing Open Rates
Email is one of the most valuable components of the marketing mix. A recent report from Gigaom and Extole hails it as the most effective tactic across much of the sales funnel, and a recent survey conducted by the Economist Intelligence Unit in partnership with Lyris found that email sways purchase consideration more than any other source, including personal referrals.
But even our best performers can—and should—be continuously optimized. For email, open rates are a great place to start because, as you know, it's unlikely that anyone will act on your email if they don't first open it and give it a chance.
In this 24-page guide, we begin by introducing email open rates, current industry averages, and ways to maximize your data accuracy. Then, we delve into six key factors that greatly impact email opens—a clean list, strong deliverability, segmented mailings, good presentation, excellent timing, and ongoing testing—and offer various tips for improving your efforts in these areas.
You will learn:
What open rates are, and how you can improve them
How to effectively segment your list
Tips for making a good first impression in your emails
This is just one of over 4000 marketing downloads, templates, guides, research reports, surveys, case studies and how-to articles INCLUDED with PRO Membership. Sign up today