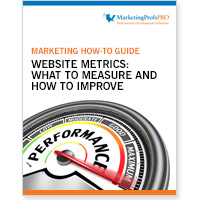 Website Metrics: What to Measure and How to Improve
For marketers, a key advantage of digital assets is the vast amount of data that's available for understanding and optimizing performance. But the drawback to having that much data is that it can become quite the time-suck if you don't know where to focus.
In this 27-page guide, you'll learn how to focus on the data that matters most when you're intent on getting the most from your website—specifically, that which concerns traffic, the visitor journey, visitor engagement, and conversions. It covers the metrics you'll need to track in order to assess your website's performance in these areas and offers actionable tips for improving those results.
You will learn how to:
Increase traffic to your website and discover where your visitors are coming from
Analyze and improve the visitor's journey through your website
Improve your conversion rates and your average order value
... and much more!
This is just one of over 4000 marketing downloads, templates, guides, research reports, surveys, case studies and how-to articles INCLUDED with PRO Membership. Sign up today