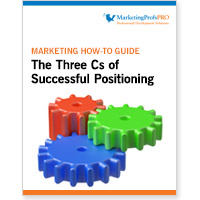 The Three Cs of Successful Positioning
To effectively position your B2B software or product, you need to gain a thorough understanding of the three Cs: your channel, your customer, and your competition. Conducting three Cs research is the first step in the business process for positioning.
In this 15-page guide, you'll learn how to research the three Cs, their importance, and their impact on the positioning process. Just as positioning is the foundation for successful marketing, understanding the three Cs is the foundation for a positioning strategy that will set you apart from your competitors.
You will learn how to:
Jump-start your positioning by understanding what's really happening in the sales channel
Determine how your competitors are positioned and how to use that information
Size up your competition and set yourself apart
... and much more!
This is just one of over 4000 marketing downloads, templates, guides, research reports, surveys, case studies and how-to articles INCLUDED with PRO Membership. Sign up today