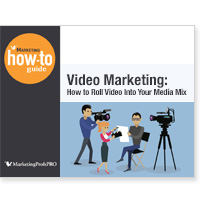 Video Marketing: How to Roll Video Into Your Media Mix
Making a case for rolling video into your content marketing mix is amazingly easy. Research reveals that, when offered as a content choice, video is preferred over whitepapers, case studies, demos, webinars, and e-books.
Online retailers see conversion rates nearly three times higher on product pages that have video versus pages that don't. (Forrester)
Marketers who are using video are seeing 49% faster growth in revenue. (Vidyard)
Average time spent on a page increases by 2.6 when people view pages with video than those without. (Wistia)
And according to a report by Wyzowl:

63% of businesses use video as a marketing tool, and of those, 83% say video provides a good ROI
84% of consumers have been convinced to make a purchase after watching a brand's video
79% of consumers would rather watch a video to learn about a product, than read text on a page
81% of businesses with an explainer video said the video has helped them increase sales
It's no surprise that video engages viewers. Take YouTube, for example, YouTube is the third most-trafficked website. It's home to the second-largest search engine. And we're not just talking about kids here: YouTube reaches more adults than any cable network.
What can video do for your organization? In this 27-page guide, we'll explore the benefits of video marketing, the variety of video formats, and how to make video on a budget. We'll also look at how to use social media with video and strategies for cashing in on video.
You will learn:
The six compelling benefits of video marketing
How to master the basic techniques required to create videos on a small budget and with few resources
How to distribute videos using social and create a strategy to use video throughout the buying cycle
... and much more!
This is just one of over 4000 marketing downloads, templates, guides, research reports, surveys, case studies and how-to articles INCLUDED with PRO Membership. Sign up today