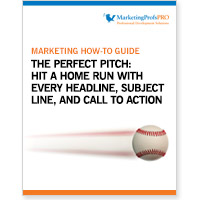 The Perfect Pitch: Hit a Home Run With Every Headline, Subject Line, and Call to Action
To engage, or not to engage—that is the question people quietly answer for themselves each time they encounter your content and messaging. It's a question of time, mood, distractions, current interests, and evident pains.
The answer hits them like a fastball, materializing in as little as milliseconds based on the cues they immediately see and sense—things like the author or sender, the topic, the promise, the inferred sentiment, and tone.
Psychology is at work, as simple words on a page create images in the mind that can trigger instant reactions, either in or out of your favor. Will their eyes stop mid-scan and their attention turn to this thing you have to offer? Or will they seamlessly move onto the next, to one of the thousands upon thousands of other messages vying for their attention each and every day?
The fact that this content, this message, this offer that you've created is glorious beyond belief simply does not matter at this point. It will, but only if they choose to hang long enough to see what it entails, only if they consciously decide to move forward—and that will largely depend on a few key players. We call these your base players because they can make or break your game every time; they include your headline, your subject line (for email messages), and your call to action.
In this 33-page guide, we'll cover how to get those players into the best shape for winning over your audience. You'll learn strategic insights and actionable tips that you can immediately start using to up your game and improve your results.
You will learn how to:
Write headlines that will inspire your audience to read and want more
Structure your subject lines for best results
Identify the essential attributes of a clear call to action
... and much more!
This is just one of over 4000 marketing downloads, templates, guides, research reports, surveys, case studies and how-to articles INCLUDED with PRO Membership. Sign up today