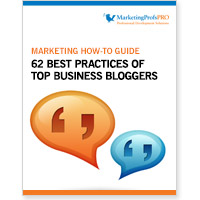 62 Best Practices of Top Business Bloggers
Top business bloggers haven't achieved success by accident. They have strategies. They employ effective practices. They work hard to perfect the craft—and not just with popularity, notoriety, or follower counts in mind.
Top business bloggers are fixated on making their blogs a platform to serve the objectives of the business and accomplish specific goals.
Whether you're new to blogging, feeling your way through, or have years of experience under your belt, this 24-page guide will provide you with valuable nuggets of wisdom that will help you supercharge your business blog. You'll learn directly from a long list of strategies that have proven effective for top business bloggers.
You will learn how to:
How to apply proven strategies to your business blog
How to provide readers with a great user experience
How to keep your blog content varied and interesting
How to get your posts ranked
... and much more!
This is just one of over 4000 marketing downloads, templates, guides, research reports, surveys, case studies and how-to articles INCLUDED with PRO Membership. Sign up today