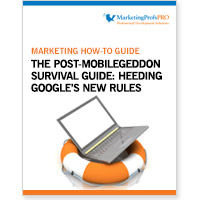 The Post-Mobilegeddon Survival Guide: Heeding Google's New Rules
Mobile is taking the world by storm, stealing massive attention away from other media, and leaving brands that don't cater to her idiosyncrasies washed up in her wake.
Already, half of all web searches are performed on mobile devices, and close to half (42%) of website visitors are arriving through mobile-operated organic search. These trends are poised to continue, with little hope of recovery for desktop forces.
This 24-page guide will teach you how to optimize your website for mobile so that your home base can be badged "mobile friendly" and earn the search rank it deserves.
You will learn:
How to optimize your website for mobile
How to effectively position your keywords
How to track your results
How to get along with Google
... and much more!
This is just one of over 4000 marketing downloads, templates, guides, research reports, surveys, case studies and how-to articles INCLUDED with PRO Membership. Sign up today