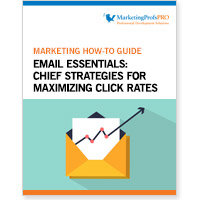 Email Essentials: Chief Strategies for Maximizing Click Rates
In email marketing, most everything hinges on the click. No clicks, no glory because a low clickthrough rate is terrible news for your conversion rate, and it means that any success you see with your open rate will likely amount to little more than brand awareness (which is good and all, but probably not the primary goal of your campaign).
This 32-page guide will teach you how to optimize your email efforts to maximize your clickthrough rates. You'll walk away ready to tackle your next email campaign!
You will learn how to:
Cater to your subscribers
Optimize your emails for mobile
Create a strong call to action
Run helpful, accurate tests
... and much more!
This is just one of over 4000 marketing downloads, templates, guides, research reports, surveys, case studies and how-to articles INCLUDED with PRO Membership. Sign up today