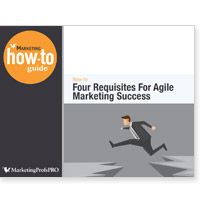 Four Requisites for Agile Marketing Success
It's been 30 years since movie character Ferris Bueller famously proclaimed, "Life moves pretty fast."
Ferris, old buddy, you have no idea.
In the decades since you masterminded what is perhaps the most awesome ditch-day idea ever, we've evolved into a society that is technologically literate, even by your standards, and we have systems that support entire networks of people and mass communities of strangers who collectively create, define, and transform pop culture and trends on an ongoing basis.
We also have a constant stream of new products and ideas popping up every day and spreading like wildfire, perpetually altering the whims and desires of our communities, our clients, our customers, our children—even ourselves.
To say this new reality poses a challenge to marketers today is a massive understatement, and it's true what you said about needing to stop and look around once in a while lest we miss it—it in this case being the clues, the opportunities, and, potentially, the boat itself.
Today, to effectively keep up, we have to take a different approach—one we call agile marketing.
What's more, agile marketing goes beyond the role of lifeboat by supplying a plethora of competitive and personal advantages, including these: greater productivity, more relevant marketing communications and campaigns, increasingly better results, happier employees, and very contented bosses.
But there are tricks to getting it right, which is why we think you'll be interested in this 36-page guide. It runs through the four requisites for agile marketing success—the right attitude, the voice of the customer, "flow-jo" (flow mojo), and teamwork—along with a myriad of tips for putting it all into motion.
You will learn how to:
Implement techniques used in agile methodology
Understand your customers (and harness that knowledge to guide every marketing decision you make)
Ensure your team is more productive and in sync
And much more!
This is just one of over 4000 marketing downloads, templates, guides, research reports, surveys, case studies and how-to articles INCLUDED with PRO Membership. Sign up today