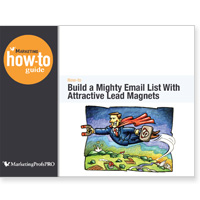 Build a Mighty Email List With Attractive Lead Magnets
"Hello, stranger; please give me your email address."
What kind of request is that? It's not a very compelling one, is it?
"I'd like to offer you massively helpful advice to solve a problem that's killing you. All I need is your email address."
Now that's more like it.
That's a lead magnet, which is the subject of this MarketingProfs How-To Guide.
Offering lead magnets is a vital part of the content marketing formula that builds your email list—and, in turn, effectively builds your business. In this 36-page guide, you'll learn about lead magnets, how they can make your marketing more magnetic, and how you can use them to build a higher quality email list that delivers more business.
You will learn:
How to identify a great topic for your lead magnet
Five principles for creating an effective lead magnet
25 types of high-converting lead magnets
Effective ways to collect email addresses
And much more!
This is just one of over 4000 marketing downloads, templates, guides, research reports, surveys, case studies and how-to articles INCLUDED with PRO Membership. Sign up today